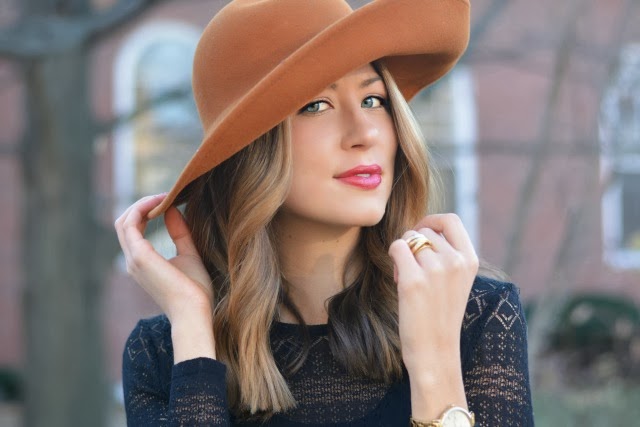 hat covet
Wearing: c/o 1970 Oscar de la Renta Brimmed Hat | Zara Dress | Tahari Boots | Banana Republic Ring | Kate Spade Watch
Nothing like seeing an old college friend succeed – especially in fashion! I was thrilled to collaborate with the Hat Covet gals who let me style this vintage Oscar de la Renta beauty & track them down for an interview. Chelsea & Natalie, both with an entrepreneurial spirit & a major love for fashion, joined forces & opened a vintage hat shop, Hat Covet. It's admirable that they made a dream a reality just 3 months ago & have already graced the pages of Vogue.. like, seriously?
Read along to learn a little bit more about these fabulous ladies & the story behind Hat Covet:
Give us the back story!
Natalie & I met in Philadelphia after both working in corporate fashion. We instantly became friends, quickly realizing we both had a passion for all things vintage & rare. When the opportunity arose to chase our passion, we jumped on it & Hat Covet was born!
What is the story behind Hat Covet? 
At dinner one night (over tacos), we saw a store across the street where the owner, who had passed away years ago, had left behind hundreds of gems that hadn't been touched in over two decades. We came, we saw, we coveted!
Why vintage hats, of all things?
We kind of fell into the vintage hat industry, but why not? Vintage accessories are so rare & there is no real marketplace for vintage hats – which makes them extra special!
Who's your ideal consumer?
Our ideal consumer is obviously a hat lover, but also spans the gamut with age – from the fabulous elderly to the young fashionistas. Our ideal consumer would be someone who appreciates uniqueness & wants something that no one else has.
You're located in the heart of Philly. What's a typical day like in the Hat Covet warehouse?
The Hat Covet warehouse is where we store all of our collections & produce sales. A typical day here includes sorting, packaging, shipping, & the occasional photo-shoot  But, you are more likely to find us at the Ritz La Columbe cafe glued to our computers responding to emails, sourcing hats all over the world, & perfecting our website!
How do you choose the styles that you will feature? Where do you find such beauties?
We usually choose the features that we will style by how rare they are. We pride ourselves on the hats being "vintage" & unique. We find the hats through a lot of hard searching! We mostly source our hats from estates that have been locked away for decades from private collectors. We also love "stumbling" upon collections every now & then while searching – they are usually super fun steals!
What was the best advice you received in starting your own business?
The best advice we were given was to do something that we absolutely love because we are going to be married to it. We did exactly that.
If I was to buy one hat this season, what style should I invest in?
For Fall, we are seeing the bowler come back with a vengeance! It is a very chic way to play into the menswear trends. It also keeps your pretty little head warm during these suspected cold winters ahead.
Congrats on your recent Vogue feature! What are your hopes & dreams for HC here on out?
Thank you! Our hopes & dreams are to be able to grow our business to become the #1 retailer of all vintage accessories. We are about to launch our vintage jewelry division for Hat Covet & we couldn't be more excited!
They say hats are the punctuation for fashion, for good reason. Hop on over to Hat Covet to browse their dreamy collections.. & I hope you love them as much as I do!