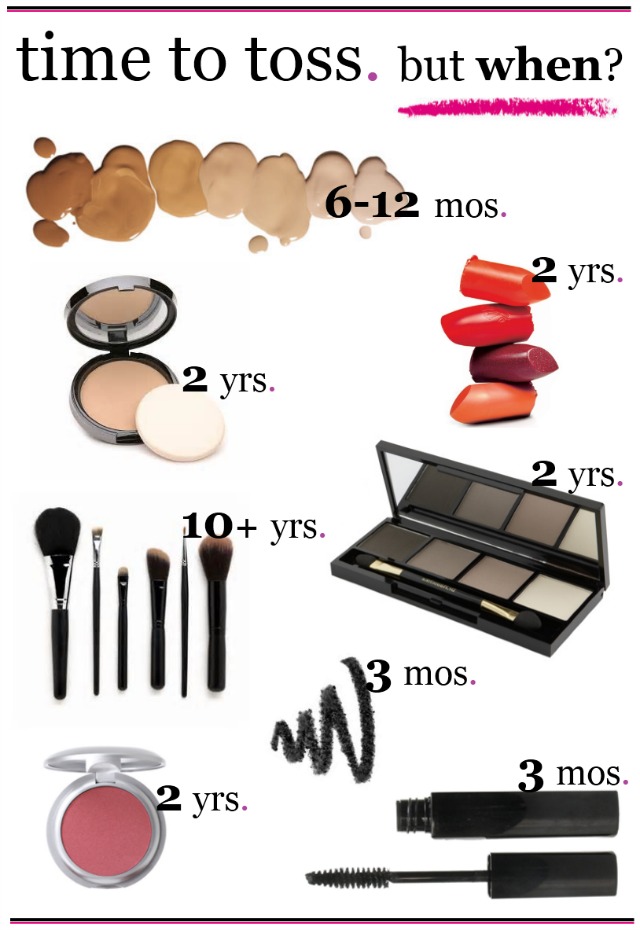 time to toss
Not going to lie, I definitely use make-up that's way past its expiration date. If you think about it.. it's kind of gross. I decided to chat with my good friend, Brit, who kicks ass as a make-up consultant at MAC Cosmetics & shares her daily beauty creations on Instagram. I wanted to know when (& why!) I should purge my make-up drawer & here's what she said:

Foundation & concealer? 6-12 months!
Chances are that if you break out,  9 times out of 10 it is because you are using an old foundation or concealer. Especially if it contains an SPF, it will expire sooner. You can also tell if they have gone bad by the color, the smell, & the texture of the product. If it smells funny, it's gotta go.
Powders & blush? A maximum of 2 years!
These have the longest shelf life but are used the quickest. If your powder changes color, like your foundation looks darker in the compact or your fabulous bright pink blush is now a chalky light pink, it's time to toss!
Eye liners? 3 months!
Once you hit the 3 month mark with pencil, liquid, gel or cream liners.. see ya! You apply eye liner to a sensitive area pretty much every day. Don't risk it. Conjunctivitis isn't cute.
Eye shadows? 2 years!
Powder shadows are good for 2 years. Cream shadows follow the 3 month rule. Once the colors start to change, it's time to toss 'em!
Mascara? 3 months!
I've seen people do some crazy things to extend the life of their precious mascara. I don't care what Pinterest says.. never add saline solution, rubbing alcohol, water, or olive oil to your mascara tube! Mascara also tends to smell once it's gone bad.
Lipstick & lip liner? 2 years!
Lipsticks & lip liners tend to get a white film on them once their time is up. That's a sign to purge all those sad little babies & purchase some new ones!
Makeup brushes? Never.. if you're smart.
Brushes can & should be washed! I use brush cleanser daily & every 2-3 weeks I give them a deep clean using a gentle dish soap. I prefer Palmolive over baby shampoo – it removes all the build-up & makes them feel like new. I have brushes I literally bought 7 years ago that are still going strong!
& just a side note: MAC has a recycling program that when you bring back any 6 plastic or glass MAC containers you can get a free lipstick, lip gloss, or eye shadow. Pretty cool! Let the purging begin, gals!