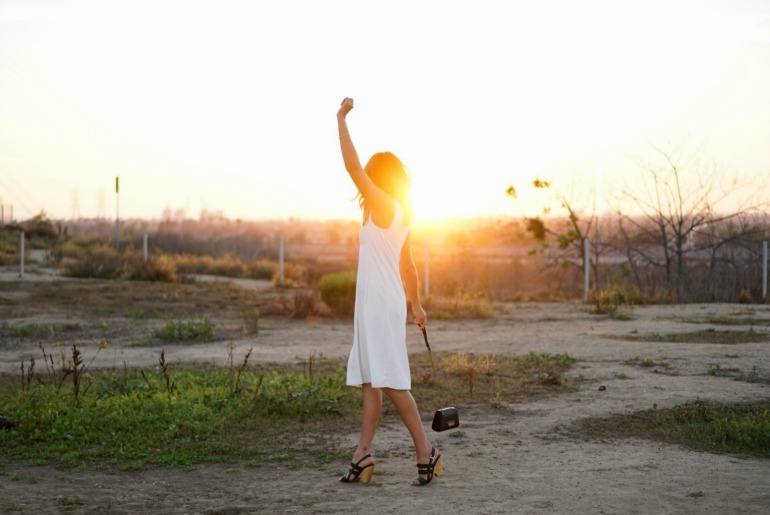 timeless
Wearing: Vince Front Pleat V-Neck Dress | Madison Harding Simpson Sandals | ZAC Zac Posen Folded Gusset Crossbody | Gorjana & Griffin Cuff (similar)
People keep asking "Do you miss home?"
I've always considered myself an independent person but moving across the country by yourself puts independence on a whole different level. Sure, I was ready for a new experience. New adventures, projects, friends, laughs, challenges, scenery, love interests… but in reality, I was just ready for something new.
Moving here has been a breath of fresh air. Living in Boston my entire life, it became I city I knew inside & out. I could navigate the streets with my eyes closed, used the MBTA Bus App more than Facebook, visited the MFA far too many times, & always wound up at the same bars, no matter how hard we planned otherwise. It was a tough decision deciding to move when I was so comfortable & so content where I was, but what's the fun in that? I'll never forget how I felt booking my one way plane ticket to California… I wasn't nervous, I wasn't excited, I was ready.
So far, California has not disappointed. The weather is amazing, the food is delicious, the adventures are endless, & the people are friendly. But, do you know what I love most about living here? My free time. Back home I was managing three jobs on top of a social life which left me with no time for myself. I preferred it that way solely because I became accustomed to it. But, here? I have no plans. None! It's like my calendar cleared as soon as I crossed into PST & I enjoy it more than I ever thought I would. I spend my days biking the boardwalk & my nights exploring new restaurants; my weekends coloring with my little cousins & my Sundays front row at church; my mornings blogging in bed & my afternoons drinking lattes at coffee shops; sunrises spent at Pilates & sunsets spent roaming city skylines in pretty white Vince dresses & Madison Harding heels. I'm finding the time to do what I want & only what I want. It's amazing. It's liberating. It's fun.
So, do I miss home? Let's just say that I miss you.
A huge thanks to creative mastermind Mark from M. A. Gonzalez Photography for snapping these darling pictures. Also, you can shop my entire look below!