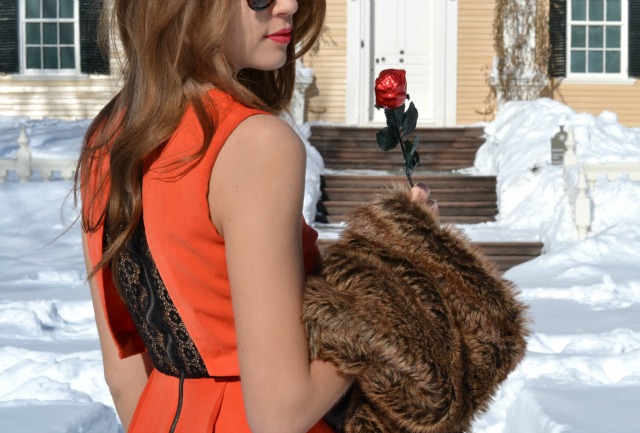 Wearing: c/o Sugarlips Dress | UO Fur Shawl | Target Tights | GoJane Booties | c/o InPink Bracelet
Today rules for many reasons. It's Thursday, which is one day away from Friday. It's Valentine's Day, which means love is in the air. & it's my best friend's birthday, which means cupcakes & tequila are in order. It's not often that I whip out my fur faux shawl (or use a candy rose as an accessory), but I refused to wear a jacket to cover the unexpected detailing on this gorgeous Behind the Theater Curtain Dress – business in the front, party in the back.
More importantly, it's Love Day! Which means.. I hope you get all dolled up, get showered in kisses by the one(s) you love, & eat as many candy hearts as you can muster. & if none of that happens, treat yourself to cute jewelry on InPink.com & get 30% any piece of jewelry with the code: ALLIE30
Happy Valentine's Day, to you & yours.
---
---
18 comments
Emily Beth

February 14, 2013 at 4:49 pm

That dress is adorable, and loving the tights!

Reply

---
and so it goes….

February 15, 2013 at 4:07 pm

Absolutely adore this look! The color is perfect on you!

XO

Reply

---
Cait Val

February 16, 2013 at 11:53 am

okay your cut-away to a lace detail is SO AMAZING!
and so is that fur capelet! great look 🙂

xo. c & v
cake & valley

Reply

---
cleartheway

February 20, 2013 at 1:44 am

Haha, cute — "business in the front, party in the back." I love that nail color, too. You look great!

Kate from Clear the Way

Reply

---
Leave a comment