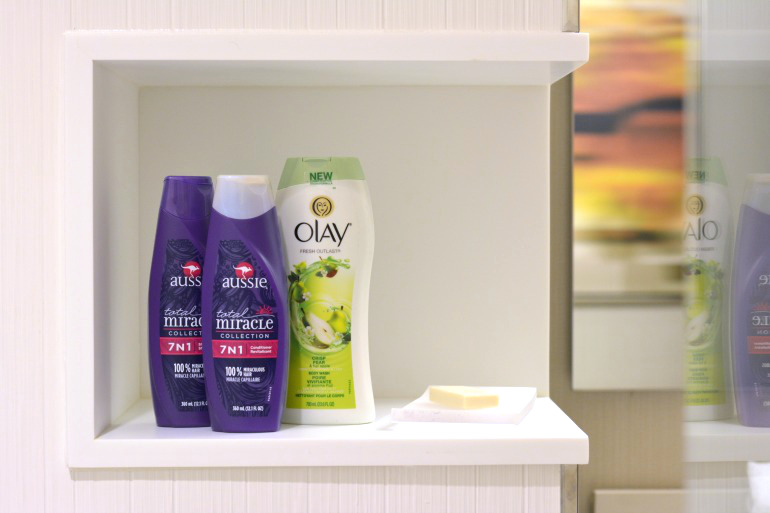 The last few weeks have been insanely busy, like most summers are! But, instead of traveling to the Cape to soak up the sunshine like the rest of the world, I've been traveling around New England for photoshoots & living out of a suitcase.. tough life. When that's the case, it's crucial I take good care of my body. My hair needs to look healthy, my skin needs to be clear, & I have to feel fit – ya know?
I'm sure you've been following along on my reviews for P&G's Beauty Collective that I've been documenting on Instagram, but it's time to dive in deep on some of the items I've been loving lately. I actually snapped this picture during my stay up in Portland to show you what products I've been using to maintain my beauty while in the scrubbin' up in the shower..  & also because I loved the simplistic design of the bathroom, let's be honest.
First up, Aussie's Total Miracle 7N1 Shampoo & Conditioner which leaves my hair feeling clean & strong. Best of all, I reap 7 benefits in 1 (hence the name), including split-end protection & protection against humiditiy which is so necessary during these hot & humid summer months. Also, lather is key.. the more bubbles, the better! A small amount goes a long way. Once Aussie's Total Miracle 7N1 Conditioner is penetrating my strands, I whip out my loofah & lather up in Olay's Fresh Outlast Crisp Pear & Fuji Apple Body Wash. This body wash is designed to work with your pH level & made with essential oils, instantly transplanting me to a farmer's market with its yummy scent.
Now, you tell me! Which of these products are you excited to use this summer? Comment below & fill me in & shop my beauty buys below!