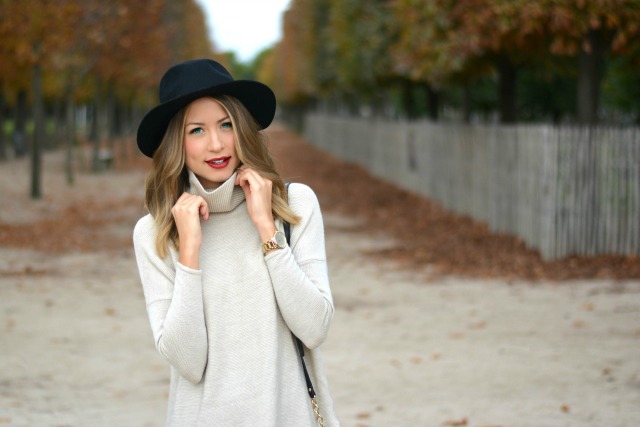 Wearing: c/o Boden Textured Off Duty Sweater (similar) | H&M Skirt | Forever 21 Wool Fedora | c/o Skechers Native Booties | BR Saddle Bag & Gilded Band Ring
If it's not obvious, I spent the last two weeks vacationing in Par-ee! I was lucky enough to tag along as a friend's date to a wedding in the champagne valley & we made a trip out of it, complete with a visit to Paris & Reims & everything in between. For our first few nights in Paris, a group of us stayed at Hotel Brighton with one of the prettiest views of the Tuileries Gardens, with the Eiffel Tower at one end & the Louvre at the other.
Since I was so proud of myself for packing like a true Parisian (a lot of white, black, & neutrals), I had to snap a few pics in front of the gorgeous tree lined paths in the Tuileries. Taking full advantage of my favorite fall trend, I paired this Boden sweater with a few Paris necessities, like this $12 jersey knit pencil skirt, this wide brimmed wool hat, & these black suede booties. That day was one of my favorite days through out the trip – it started with champagne, ended with a sunset cruise along the Seine, & included a few necessary tourist traps along the way.
To see all the pics I shared along my adventures, search for the hash tag #allietravels on Instagram or click here. Keep an eye out for a few more posts from France & while you're at it, shop my look below!