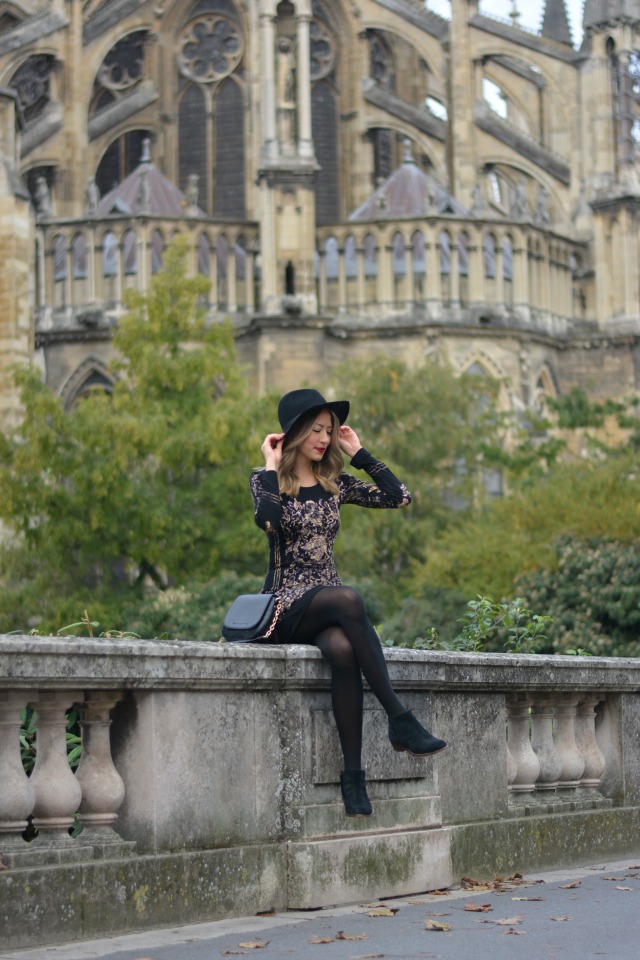 Wearing: c/o NIC + ZOE Rosette Dress | Forever 21 Wool Hat & Duster Coat (not shown) | BR Saddle Bag | c/o Skecher Native Booties
I can't even. Reims, a small city in the champagne region of France, was my favorite leg of the trip. Paris is beautiful, but Reims is gorgeous. Reims, pronounced Rahms (& with our accents, was mistaken for Rome.. awkward), lacked the hustle bustle that large cities do, had streets lined with cobblestones & farmers markets, & never ending champs – a-yo! We sneaked to Reims for a wedding, which was held at the Pommery Champagne house, where I ate the best damn truffle cheese of my life & drank probably 4 bottles of champs alone. Hey, someone's gotta dance!
But all in all, my favorite site in Reims was the Cathedral de Reims smack in the middle of downtown. It's a replica of Notre-Dame, but for some reason.. so much prettier & intimate than Paris' Notre-Dame. The back of the cathedral lended the perfect backdrop to this gorgeous hand-painted NIC + ZOE LBD, which I paired with my (no surprise here) trusty black booties, wool hat, & saddle bag. I made a point to dress the part while in France, but wanted to stay comfortable since we must have logged 10+ miles each day. After I have been downing champs & eating macaroons for seven days straight, I'd probably be better off walking home from France.
Check out my first Parisian post here & shop my look below!