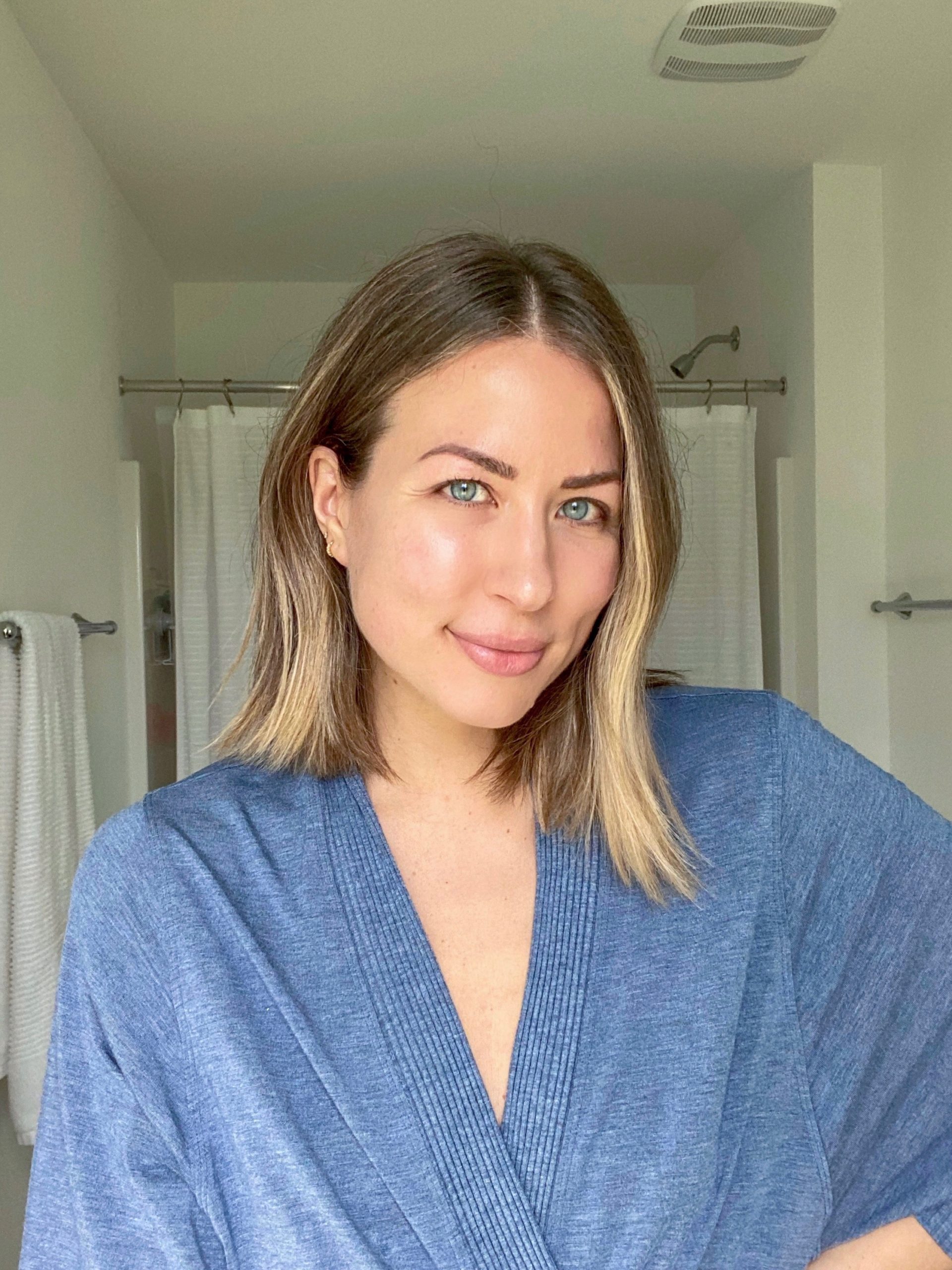 MY 4 STEP MORNING SKINCARE ROUTINE
I've said it once and I'll say it again, skincare does not have to be a) expensive b) confusing and/or c) time consuming. My morning skincare routine contains FOUR steps and FIVE products. That's it! Below I share what I use, how I use them, and some affordable alternatives, including a video walking you through my routine.
CLEANSE
I like to wash my face with a cleanser morning AND night. Why? Because my face spends hours collecting dirt, whether I'm out and about during the day or I'm rolling around on my pillow at night. I love switching off between this $18 gentle cleanser and this foaming gel – they lather up and do their job without leaving my skin feeling dry or tight.

VITAMIN C SERUM
You must (MUST!) add a Vitamin C serum to your morning routine. A Vitamin C serum helps reduce premature aging, helping with fine line and wrinkles, sun exposure, and discoloration. I like to pat it on my face and let it sit for 10 minutes before moving on to the next step. I switch off between this expensive (but well worth it) Vitamin C and this much more affordable one. To learn more about Maelove, I wrote an entire blog post sharing this affordable skincare line.

MOISTURIZE (W/ SPF)
Since my moisturizer does not have SPF, I like to mix this highly rated sunscreen in with my moisturizer. You may have to do some trial and error to find a moisturizer that works well with your skin type but, if you're combination like me (and get oily throughout the day), I highly recommend this gel lotion moisturizer from IT Cosmetics – it goes on very smooth and acts as a primer. I just purchased this beauty award winning moisturizer so I will report back soon.

HYDRATE
I kind of do this step just for fun, TBH. I like to spritz on a hydrating mist for extra moisture, sure, but mainly because it smells good and it's a fun way to wrap up my routine. Derma-e sent me this hydrating mist to try which you can also find at Whole Foods. Next time you're strolling the aisles at Target or TJMaxx, I suggest snagging a hydrating spray for the hell of it. You can stick it in your purse and use it anywhere, anytime.
I filmed an IGTV walking you through my routine, which you can watch below: