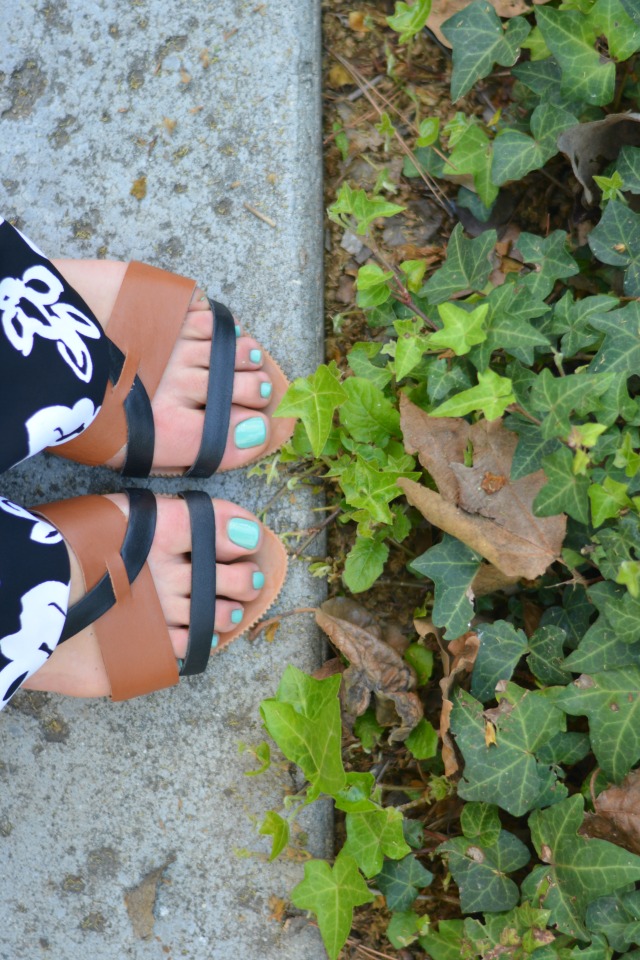 Wearing:
 c/o 424FIFTH 
Floral Jacket
 & 
Floral Palazzo Pants
 | 
Banana Republic Grid Pattern Cross-Body
 | c/o Chloe & Isabel 
Palm Royale Bracelet
 & 
Leather & Crystal Chain Bracelet
  | Armani Sunglasses via Sunglass Hut | Zara SandalsThis print is 
bold
, folks.. so
bold that I walked into a restaurant after shooting these pics & a swanky LA lady approached me screaming "I just looooove your outfit!" She told me print on print is the new thang & Trina Turk told her so. Okay, I'll take it!
So, here I am.. after a day of roaming the Venice Boardwalk I changed into this printed 424FIFTH number from their new Spring collection to experience my first night out in LA. When the weather is hot, the last thing you want to do is wear something tight (at least for me) so I love that these pieces were lightweight & not constricting. Since the outfit was a lot of black & white (like.. a lot of black & white), I added some color with the accessories but nothing too bright to distract from the print. I love the subtle crystals in these bracelets from Chloe & Isabel's new Palm Royale Collection.
If you want to hear more about what I did in LA, click here to check out today's guest post on BosAngeles! & if you don't know who BosAngeles is, they are an awesome group of Boston guys living in LA who just happened to sneak into the Superbowl after party which made major headlines.. um, hot.
Now, for the fun stuff! I am giving away one Chloe & Isabel Palm Royale statement bracelet for one lucky reader. All you have to do is enter in the widget below & cross your pretty little fingers. The giveaway is open to US residents only & will close a week from today on Thursday, February 26th. Good luck!