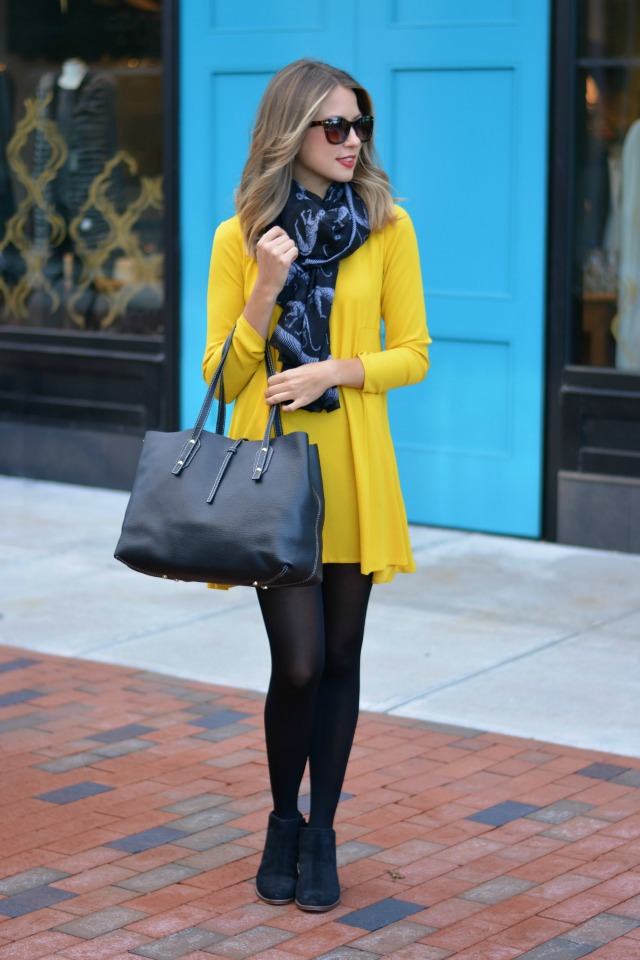 Wearing: Zara Dress | JMcLaughlin Purse | c/o Printed Village Scarf | c/o SKECHERS Native Booties
Oh, ah.. it's black bootie season! No better way to transition your summer dresses right into fall than to throw on black tights, a printed scarf, & cute booties, like these SKECHERS Natives. My black boot collection is larger than I'd like to admit, but a pair of black suede ankle booties are a must have for any girl's closet. You can buy these babies online here or at any local SKECHERS retailer!
Now, back to this dress.. I was able to snag this bright yellow mini on the clearance rack at Zara this summer & have worn it far too many times (example A). Fun fact: I love being tall (& add a 4 inch heel on top of that). One of my favorite features is my long legs, so I always reach for mini dresses (the shorter the better.. all while staying classy, of course!) to play them up – it's my thing! See? My advice to you is to play up that one feature you love the most, regardless of the weather.
Happy almost Weekend!