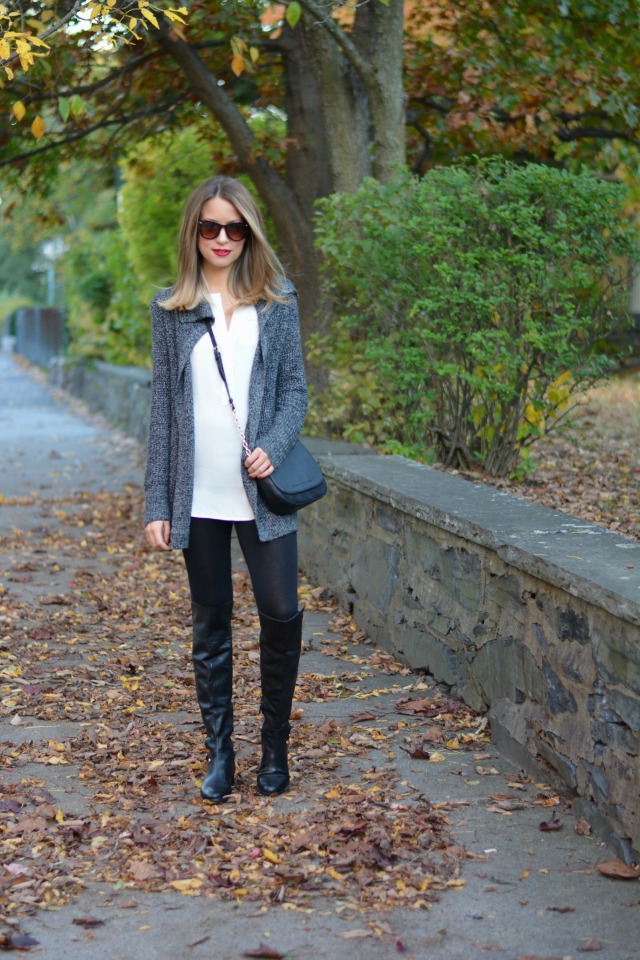 Wearing: J. Crew Blouse (on sale!) | BR Sweater & Saddle Bag | F21 Leggings | Ivanka Trump Odiner Riding Boots
I love fashion, but there are some styles that I will never like, such as ruched waist dresses like these & ribbed asymmetrical cardigans like these. Like most gals, I know what I like & what I need & when I happen to find something I need that I like, I have to have it. Which leads me to this outfit.. which includes a few new closet stables as I continue on a B&W roll:
I've been searching high & low for a black leather cross-body (I'm very particular about my handbags!) with subtle gold detailing & this Banana Rebuplic Saddle Bag fits the bill – not to mention I snagged it for 60% off.
Black riding boots are essential to every fall wardrobe & these Ivanka Trump over the knee beauties are heaven in a boot. I love the simple gold detailing; I love that you can't tell who makes them; & I love that they fit my skinny calves.. seriously.
I have a thing for sheer blouses. I found this J. Crew cream blouse on the sale rack & love that it is long enough to cover my bum when wearing leggings.. because no one wants to look like this.
& that, folks, is an outfit that is as comfortable as it is chic & features a few of my favorite things. I wore this outfit on Sunday for a personal styling gig (gah, job #4!) where I helped revamped a young professional's closet for fall in less than 4 hours. I mean, look at this before & after.. insane!
Shop my look below!