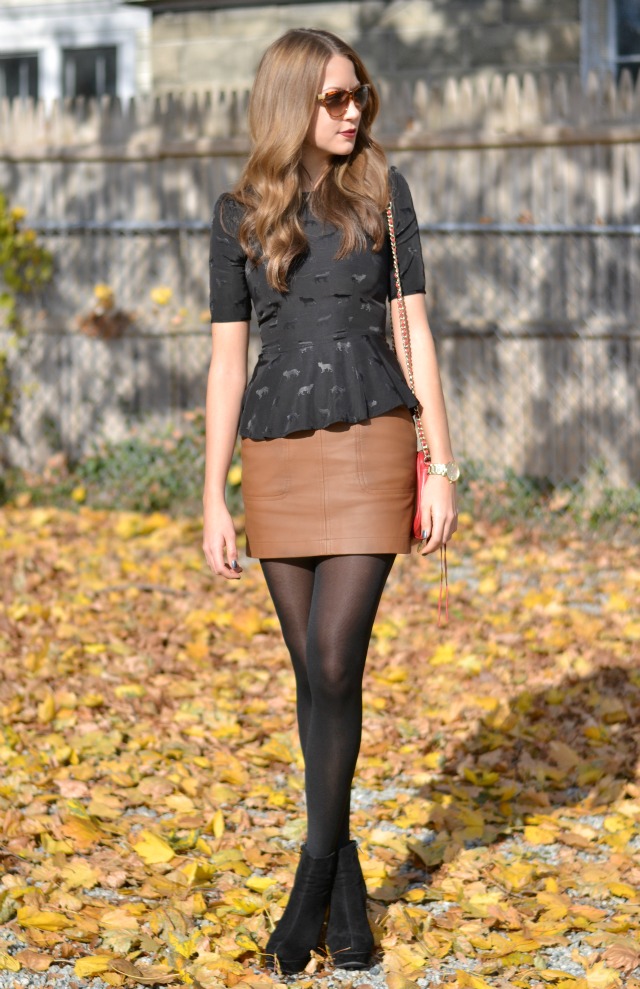 A FEW FAVORITE TRENDS
An outfit featuring a few of my favorite trends: faux leather skirt, peplum top, and affordable platform shoes. If you're a girl on a budget (like moi) I highly suggest checking out GoJane for shoes. I find cute platforms that replicate many expensive styles you see online for a killer price. I also BEG you to check out the Impulse section of Macy's. You can find designer duds on major sale, including some of my favorites, Rachel Rachel Roy & Bar III. Pair it with a Macy's coupon, & you save yourself plenty of cash.
Cat lady, a title I'd like to receive.. never. But, there are satin cats – on my shirt! I am shamefully going to admit this was my first attempt at wearing the peplum trend. I have tried on countless peplum tops & dresses, but always felt they didn't compliment my body type. Throw satin cats on it though, & I'm sold. This outfit came together as I scoured the Impulse racks at Macy's – desperate to find something fun, young, & muted to compliment the colder weather.
Oh, yeah. Happy Thanksgiving! I am thankful for.. you, this blog, & cats.