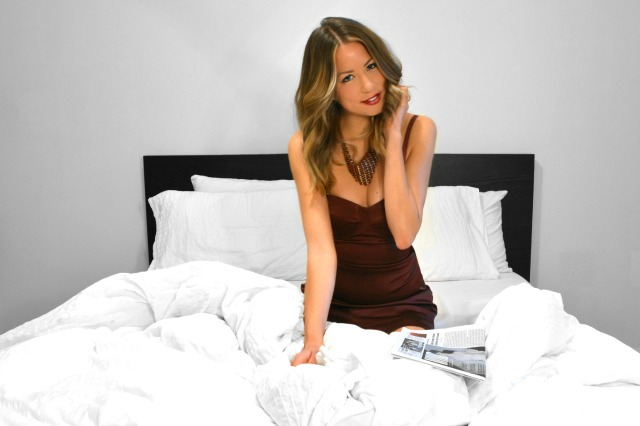 Wearing (or lack thereof): c/o Bustier Silk Slip in Burgundy, Bustier Silk Maxi Slip in Noir, Bralette Silk Slip in Midnight Navy via Luxxie Boston
You would think one would feel awkward posing in lingerie for the internet world to see.. but, not when it's Luxxie Boston lingerie! I had the pleasure of speaking with Stefanie, Luxxie's founder, last week on a panel about women entrepreneurship & it was amazing hearing the story behind how Luxxie Boston was created. Does your work day consist of pencil skirts, shift dresses, & button-ups? For most of you, yes. How often do you truly feel comfortable in what you're wearing or how you look while in the office? Meh.. not many, I assume. Do you own a slip? Doubt it! Which is where Luxxie Boston comes in.. lingerie that can be worn both in AND outside the bedroom! The silk cami's, slips, & bralettes are designed to be both comfortable & classy & come in a gorgeous array of jewel tones. I mean, do I not look like I'm going to a black tie event in that black maxi? C'mon!
Luxxie Boston has transformed my confidence both in the bedroom & in the office.. & I mean, it really doesn't get much better than that. Lucky for you I'll be hosting a giveaway for one of these beauties in just a few days so, keep an eye out!  Happy Thanksgiving!