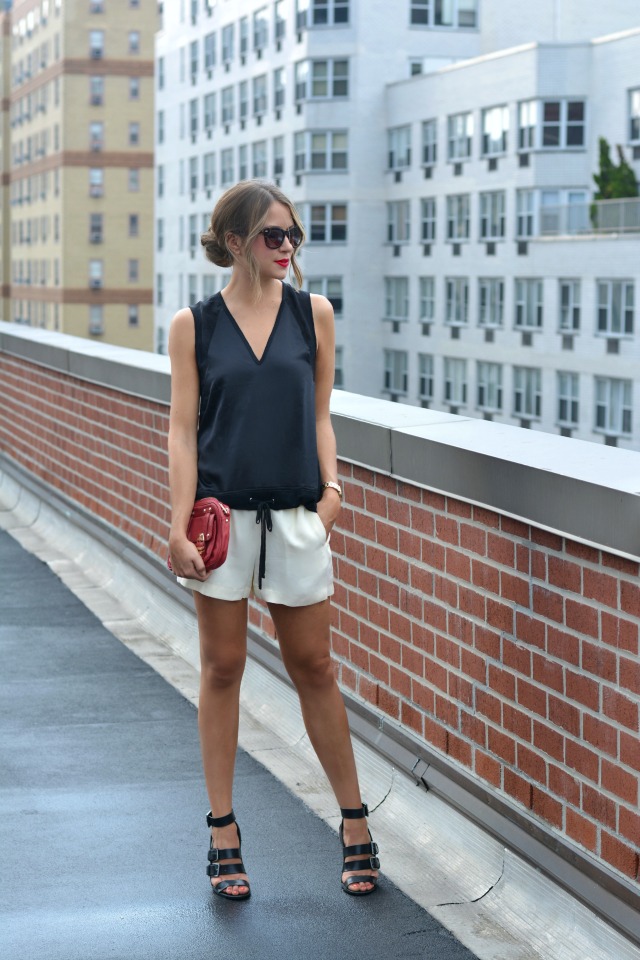 Wearing: Zara Top, Loose Shorts, & Heels | c/o Rebecca Minkoff Mini Mac | Betsey Johnson Sunnies
This is what I wore on day 3 of NYFW when it was ungodly hot & humid & I had no choice but to wear my hair up.. yup. Post shooting on one sick roof deck, Diana & I hopped over to the RewardStyle party on the top of the Empire Hotel which was.. amazing. Amazing is an understatement, really, as some of the best of the best bloggers in this big bloggin' world were gathered on top of the world, meeting & greeting while sippin' cocktils & eating cake balls.
Y'all know I love color, but this trip I tried to pack smart keeping my outfits neutral & only bringing one pair of heels & one handbag. How I survived, I'm not sure. To be quite honest, I didn't really put too much thought into what I was going to wear this Fashion Week. As much as this blog revolves around what I wear & how I wear it, sometimes getting dressed is an after thought & what's more important is being in the moment, surrounded by good company & gals who inspire me to reach for the stars, all while sitting on top of the world.