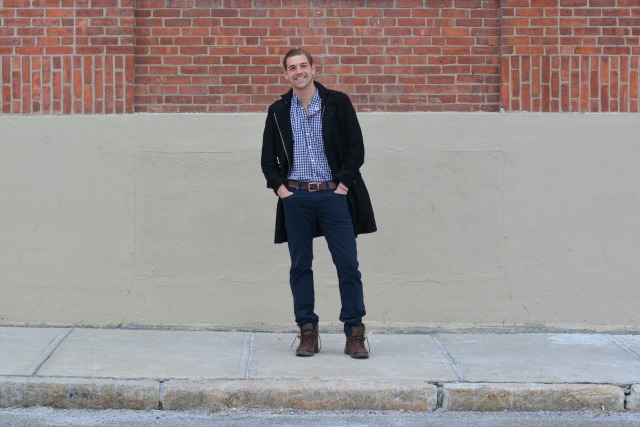 Wearing: Billy Reid Button Up, Velvet Long Sleeve, R V Y C Sweater, .B.M. 1911 Blazer, Paige Slim Fit Jeans, DL 1961 Pinehurst Jeans, AG The Graduate Jeans c/o Trunk Club, Bass Combat Boots (similar), Zara Jacket
Don't stop, won't stop.. giving you more of what you want: men's fashion! As much as this blog is focused on my personal style & women's fashion, men need love, too.. especially when it comes to clothes. So, be prepared to see a lot more fashionable men popping up on this blog in the near future.
There's a good chance that most men in your life don't know how to dress, or don't care to dress well. You'd be surprised how simple changes in his wardrobe can benefit him, making him look (& hopefully act) mature, confident, & approachable – click here to see a prime example! That is why companies such as Trunk Club are growing in popularity, giving those guys at home more time to watch football instead of aimlessly walking around the mall. I've heard about Trunk Club but have never really had a reason to explore their services.. blame it on single life. Believe it or not, David, a Trunk Club stylist, & I connected on Instagram & decided right then & there that a collaboration was necessary. After swapping a few ideas, I decided to walk through the Trunk Club process with my hunky man friend JR to give you ladies (& gents) an honest review.
Trunk Club is a men's clothing service where stylists, like David, hand pick men's designer clothes & send them right to your doorstep. The best part is, you buy what you keep.. & you are not required to buy anything! After filling out a quick bio on Trunk Club's website on JR's personality, style preference, & sizing, I received a phone call from David to discuss JR's style in more detail. Within days I received an online look book showing me what David picked for JR. From there, I selected which items I saw JR rocking & passed on those I couldn't see him wearing. Within days, a box trunk was delivered to my doorstep. I was impressed with the amount of items, their quality, & the variety of options – from blazers to button-ups to socks! I then forced JR to model the wardrobe for me in the freezing cold but safe to say.. he was stylin', thanks to Trunk Club. <<enter thumbs up emoji here>>
No better time to make your man friend look good than a new year. Hop on over to Trunk Club to begin the process with David directly, & a huge thank you to David & JR on one awesome collaboration. Also, if you live in NY, DC, Chicago, Dalllas, or LA, click here to arrange an in-person styling session at one of their clubhouses!