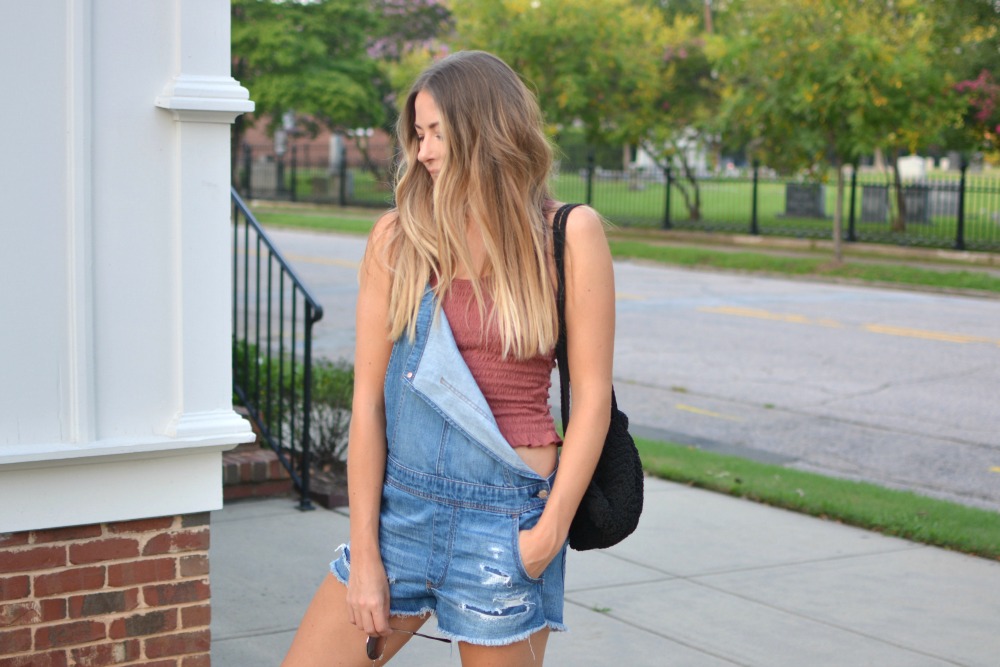 Wearing: Smocked Tank ($11 & comes in 4 colors!) & Short Overalls | Birkenstocks | Crochet Backpack (almost identical for $20)
Want to start a blog? Do it! It's actually quite easy, as there are hundreds of articles online showing you how. You no longer need a web designer to build your site, just use Squarespace for free. No need to invest in an expensive DSLR, iPhone cameras work just as well. Not sure how to edit your photos? Just add a filter or buy a preset.
Personally, I believe starting this blog was one of the best things I have done. Obviously, I love watching my style evolve over the years, but managing a piece of the interweb has changed my life in so many ways.  Read on to hear 5 reasons why I think YOU should start a blog.
It's your online portfolio.
I put my blog on my resume, even if fashion has nothing to do with the job I'm applying for. This blog serves as my online portfolio, showcasing not only my style, but my writing, photography, graphic design, & coding skills. It shows that I'm creative & consistent & I enjoy investing time & energy into a hobby beyond my 9-5. My old boss at my consulting firm says my blog is the reason he hired me. He was impressed that I migrated my blog from Blogger to WordPress & learned HTML along the way. A blog is a great way to showcase your skills & capabilities beyond a 1-page resume.
Confidence for days. 
I think back to the first few years I spent blogging & it was awkward because I was awkward. I wouldn't dare shoot pictures in public & I avoided talking about my blog at all costs. Now? I do it all & I don't think twice. I am a one-man show, so this blog's success is dependent on me & the effort I put into it. With that power, I decided to look at my blog as an accomplishment that I was proud of rather than something I'd be judged for. I started to put myself out there & my confidence grew tenfold.
The relationships you build & the opportunities you receive.
When you are an "influencer," part of your job is building relationships with brands, securing collaborations, & attending events. I've been lucky enough to shake hands with famous designers, attend NYFW for free, be featured in magazines, host fun events, & be paid by some of my favorite brands to market their products. I still pinch myself at how many awesome opportunities I've had since starting Allie Wears. I feel like my life would be boring if I didn't have a blog.. true story.
It can pay the bills.
I say "can" because.. every month is different. How much money I make throughout the year varies depending on what collaborations & partnerships I have going on. The more active I am, the more chances there are to make money. But, regardless of that, this blog has nailed me so many other side gigs that if I was to lose my job, I wouldn't fret. Because of this blog, I've signed a modeling contract, signed on as a freelance fashion writer for two different platforms, & have offered my services for impromptu personal styling sessions. This platform has allowed me to branch out to other avenues, all while making $$$.
The free swag.
I probably shouldn't boast about this, but IT'S TRUE! Bloggers get a lot of free swag & it's pretty cool. I've been introduced to so many brands & products I wouldn't have experienced, found, or even spent money on if they didn't appear at my doorstep. It can be overwhelming but I always donate or sell anything I don't need or won't use. I also feel comfortable reaching out to brands to ask for free product. That's the great thing about this business – nothing is off limits if you have the confidence to put yourself out there.
If you're going to start a blog, or have started one, I'd love to hear about it. Send me a message so I can support you! As always, you can shop my cute (& cheap) look below.