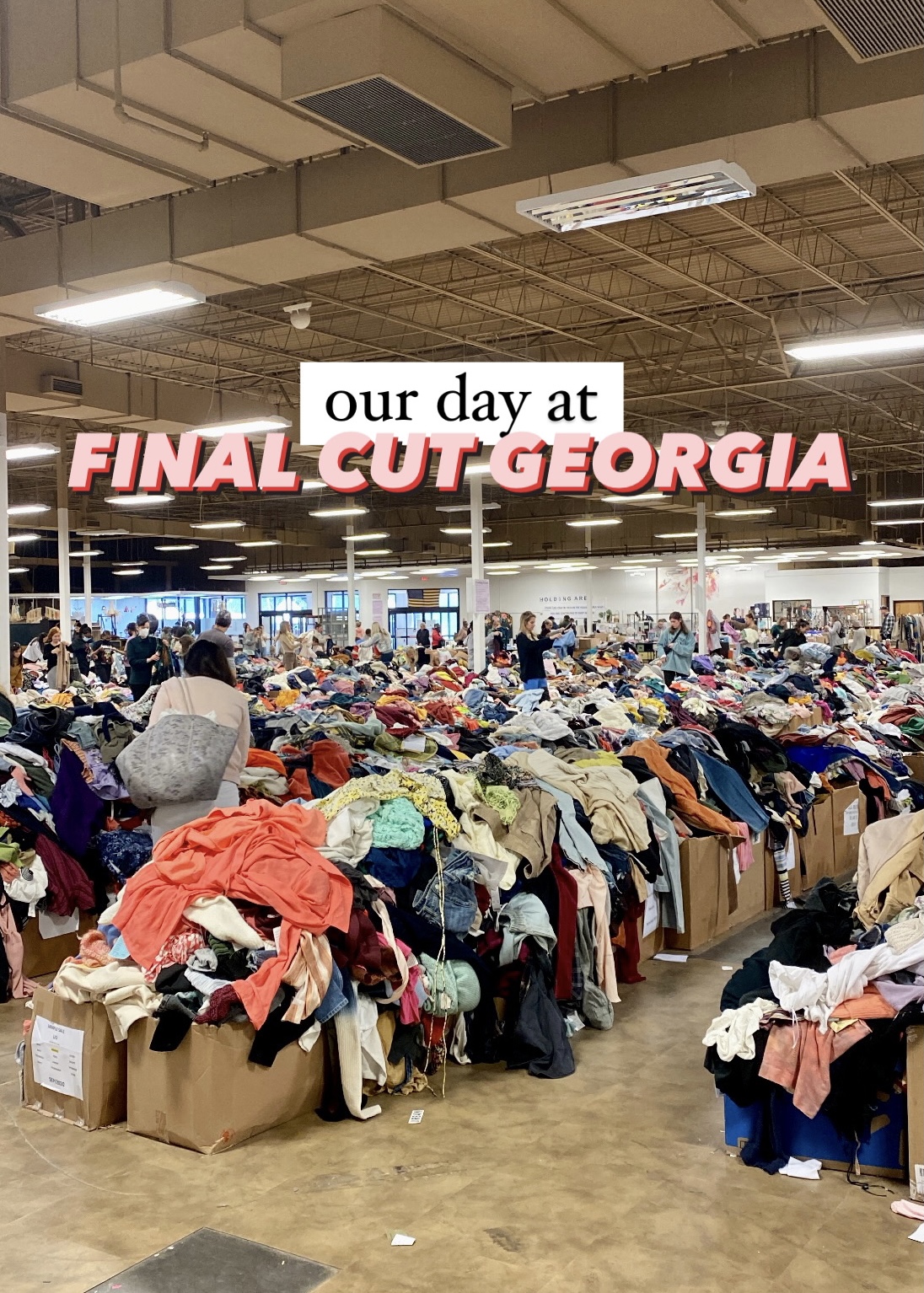 OUR WEEKEND AT THE FINAL CUT WAREHOUSE IN AUGUSTA GEORGIA
We have been wanting to make a trip to the Final Cut Warehouse in Augusta, Georgia for YEARS! Is it worth it? I think that depends on who you ask. I thought it was! Below I am recapping our trip, sharing a video of both our day there and my finds, as well as some tips and tricks if you plan to go.
For those who have no idea what I'm talking about, the Final Cut Warehouse in Augusta, Georgia is the Anthropologie, Free People, and Urban Outfitters outlet store. It's a huge giant warehouse that has bins and boxes of clothing, accessories, and home decor. It is a discount store so, you can expect a lot of pieces to be in poor condition but that is why they are as cheap as they are!
WHAT TO BRING TO FINAL CUT GEORGIA
A list of what you're looking for! A store like this can feel overwhelming so having a general idea of what you're looking for is super helpful when sorting through endless boxes of clothes.
Snacks and water, FOR SURE. You're on your feet for hours at a time so being able to take a break and eat a snack and rehydrate is necessary.
Tight clothes so you can skip the dressing room and throw items on right then and there to try on. I wore a tank top, leggings, and sneakers and had no issue trying items on in front of a mirror. I'd also highly recommend wearing a light fanny pack instead of carrying around a purse!
A wagon! We brought a beach wagon that we could fill up and roll around the store. They do have baskets you can use but since there were 3 of us, one large wagon made the most sense.
A measuring tape. If you're looking for furniture, it is helpful to have a measuring tape to ensure the item will fit, both in your car and your home.
Friends! Since the line was so long, one of us was able to stand in line and hold our spot while the other 2 shopped. It was also helpful to have a second opinion when trying on clothes – just to ensure you weren't buying just to buy and you really liked and/or needed the item.
A RECAP OF OUR DAY AT FINAL CUT GEORGIA
Click the video to watch it over on Instagram!
WHAT I BOUGHT AT FINAL CUT WAREHOUSE
I spent $298 and got 12 apparel items and 8 home decor items (including a desk!). 5 of the items that I found were on my list and/or pieces I have been searching for anyways (like an oversized comfy sweatshirt and a desk for the beach house).
Click the video to watch it over on Instagram!
Augusta, GA is about a 4.5-hour drive from Raleigh so my two girlfriends and I made a weekend out of it and rented an Airbnb. We stayed within walking distance from downtown Augusta and had a great time exploring the city. Here is a link to our Airbnb – it was perfect for 3 people. Luckily for us, the weekend that we were visiting was buy 1 apparel item, get 2 free (insane, right?!). It was extremely busy because of this sale. We spent an entire day there and the majority of it was spent waiting in line but I have been told it is never that busy – it was strictly because of the sale. Also, if you're looking for a night out on the town, we had a great time at Garden City Social – such a fun bar!
If you go, be sure to report back and let me know what you find!