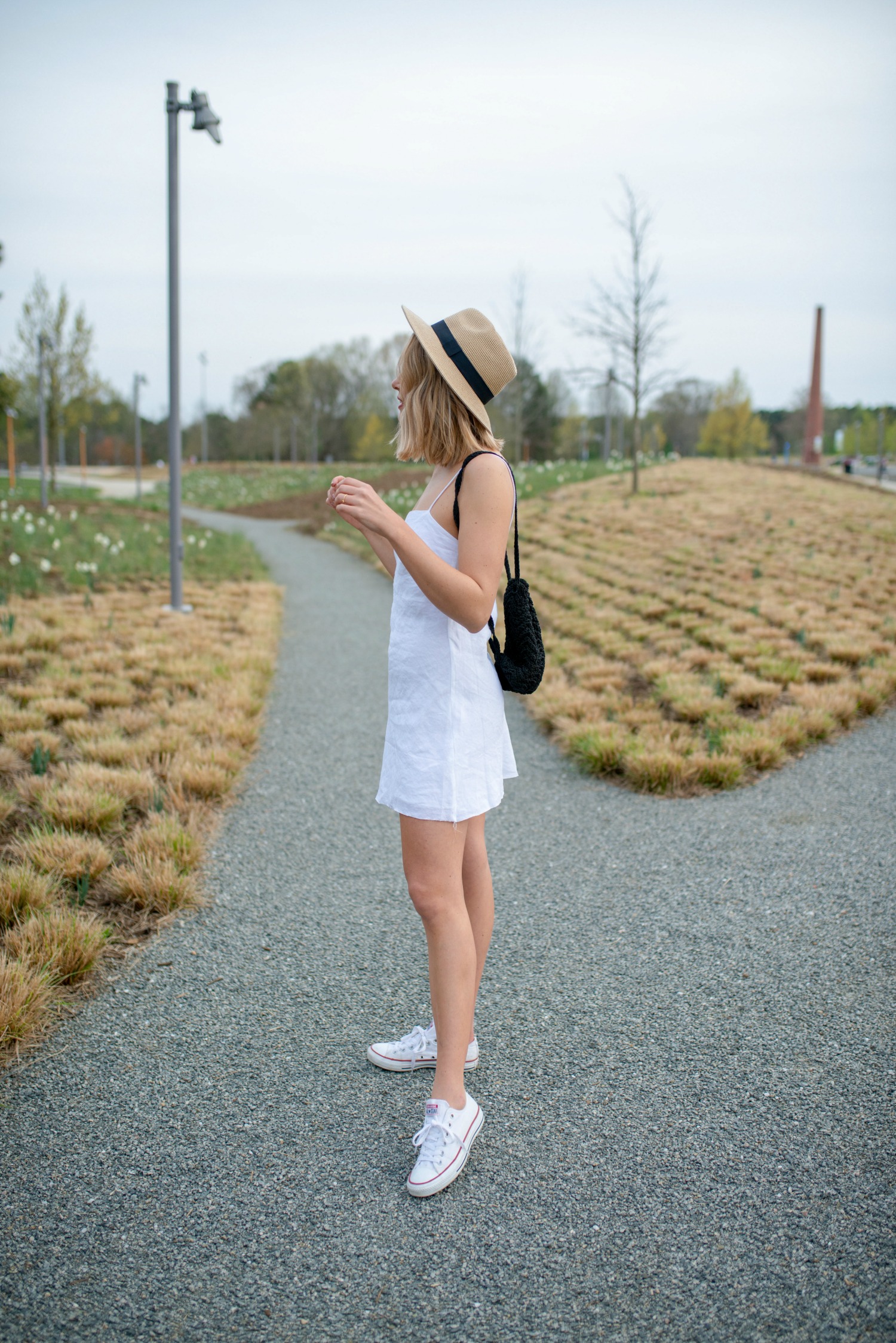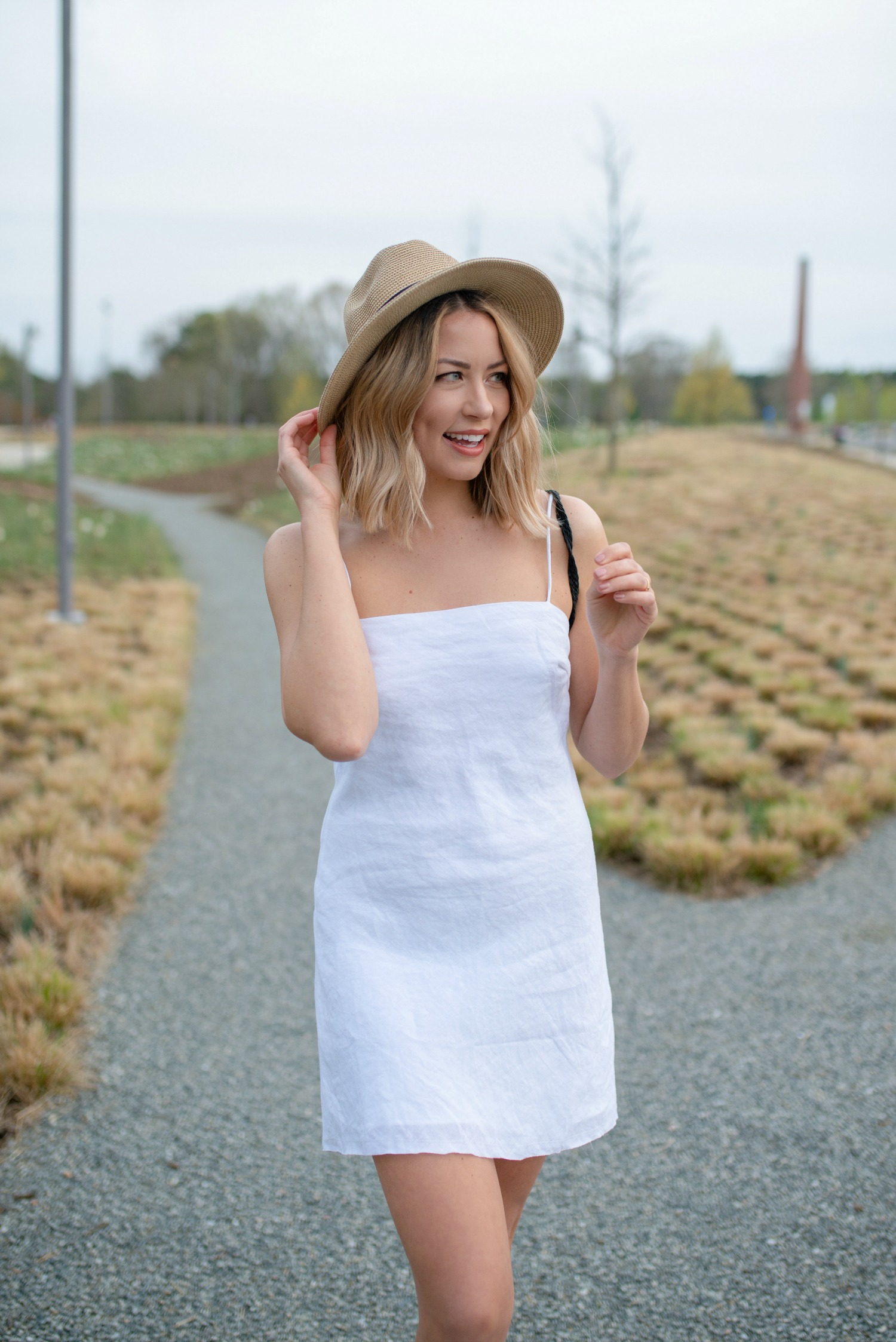 WHAT I'M WEARING
c/o Dress | Sneakers | Adjustable Hat
Here I am.. breaking all the rules & wearing white after Labor Day! I fell in love with this linen mini shift dress as soon as I tried it on. It's lightweight, fits perfectly, & requires minimal effort (aka no zipper needed). I'm also convinced that it looks cuter with more wrinkles so, that works out well. You get 20% off at Bevello, both in-store & online, with code BVEALLIE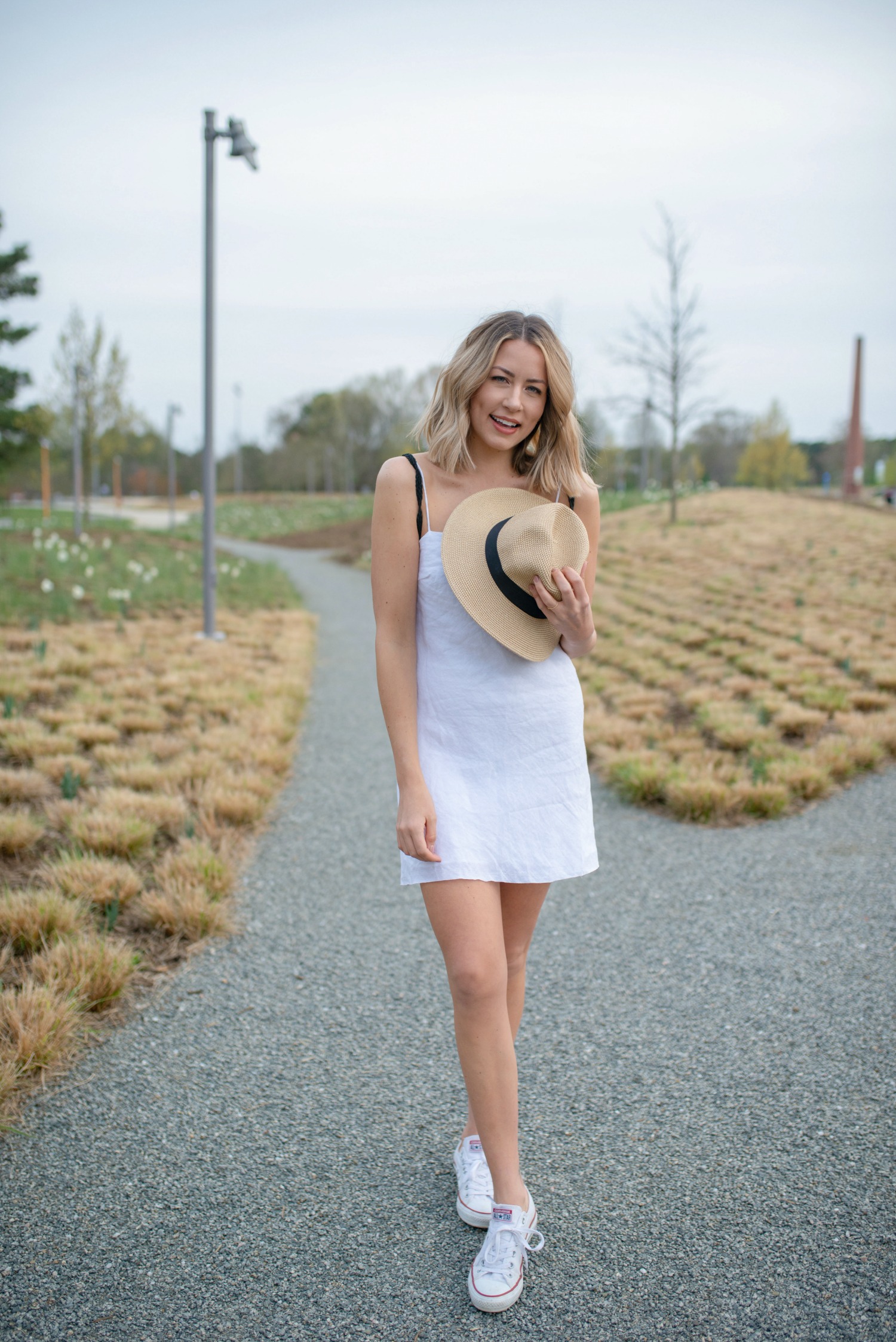 Now, let's get into those ridiculous fashion rules. They don't mean much nowadays since fashion is much more of a personal choice than a set of rules. As a society, we've become much more accepting of weird sh*t that I don't think wearing white after Labor Day is going to raise an eyebrow, ya know? Which brings me to Rule #1:
No white after Labor Day.
No one follows this rule, ever. White is a classic color that should be a staple in your wardrobe. The weather is wacky & because of global warming, we have 80 degree days in February & snow in May. Wear white all year round & be a bright light in a sea of black.
Don't wear black and brown together.
There's a lot of colors you "shouldn't" wear together but chances are, they can work. Colors like black, brown, and navy are neutrals & should be treated as such. I love the look of an all black outfit with brown accessories (i.e. a coat or a belt) or a navy shift dress paired with a black leather jacket.
Don't mix metals.
You're either one or the other, right? Wrong. Mixing metals, especially rings & bracelets, adds some texture, contrast & charm to your jewelry stack. I wouldn't wear gold hoops with a silver chain but I'd definitely applaud you for stacking dainty rings in a mix of metals.
Pantyhose are for old people.
This is a personal favorite because pantyhose are weird but necessary… in certain situations. You won't catch me in a pair of thick, colored, or patterned tights but I am a huge fan of sheer tights, nude or black, for the colder months. Extra points if they feature a control top to really suck you in (I get mine at CVS). If you're going for nude pantyhose, wear a pair that matches your skin tone – they give the illusion of a tan.
I could go on & on but there's only so many hours in a day. These are 4 rules you can find me breaking on a weekly basis. What is one fashion rule you think we should all break? Shop my look below & I hope you had a great weekend!

Images by Glory Roze Photography.