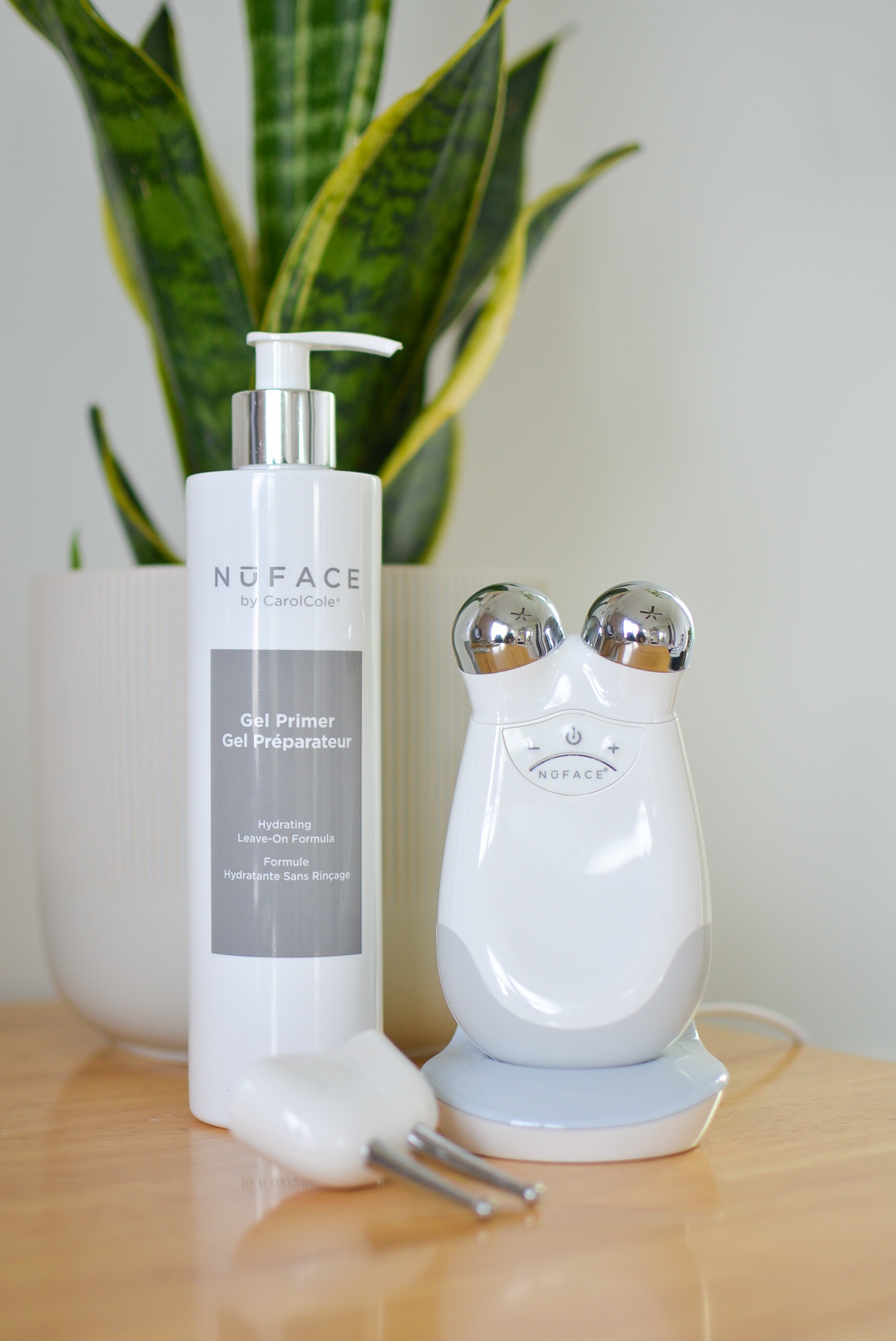 IS THE NUFACE DEVICE WORTH IT? A NUFACE DEVICE REVIEW
Whenever I share my NuFACE device on Instagram, I get asked "Is it worth the money?" So, I'm going to break it down for you and share a NuFace device review. This blog post contains my experience and thoughts on the NuFACE Microcurrent Facial Device:
What is the NuFACE device?
The NuFACE (get it.. new face?) device is a sleek handheld device that uses soft wave micro-current technology to lift, tone, and tighten the skin. It can be used on both the face and the neck and it's designed to target "facial contour, skin tone, and wrinkle reduction". Is it FDA approved and named one of the most promising beauty products currently on the market.
How often do you need to use the NuFACE device?
For the first ~3 months, they recommend using it 5x a week. To maintain results after those 3 months, they recommend using it 3x a week during your skincare regiment. Think of it like working out.. the more you do it, the better you look. I like to do it after I shower and before I start my skincare. If I am in a rush, I just do it on my eyes. If I have a few extra minutes, I will do my face, too. It takes roughly 10 minutes to complete your entire neck and face. I also always wash off the gel once I am finished with a warm water and a hand towel.
Does the NuFACE device really work?
What's cool about using the NuFACE device is that you see results INSTANTLY. Comparing one side to the other, you can see it lift, tighten and tone right before your eyes. Look at the photo below, can you spot the difference? My right side (titled NUFACED) appears more lifted – look at my eye, cheekbone, and even the corner of my lips. My face is by no means symmetrical but if you line up my eyes, my right eye is sitting higher than my left.
They recommend you use the device on one side before moving to the other. This immediate lift will wear off as the day goes on, which is why I prefer doing it in the morning so I can reap the benefits of a lifted and toned face. The idea is that, over time, the electric stimulation from the microcurrent improves collagen, resulting in a tightened, lifted effect.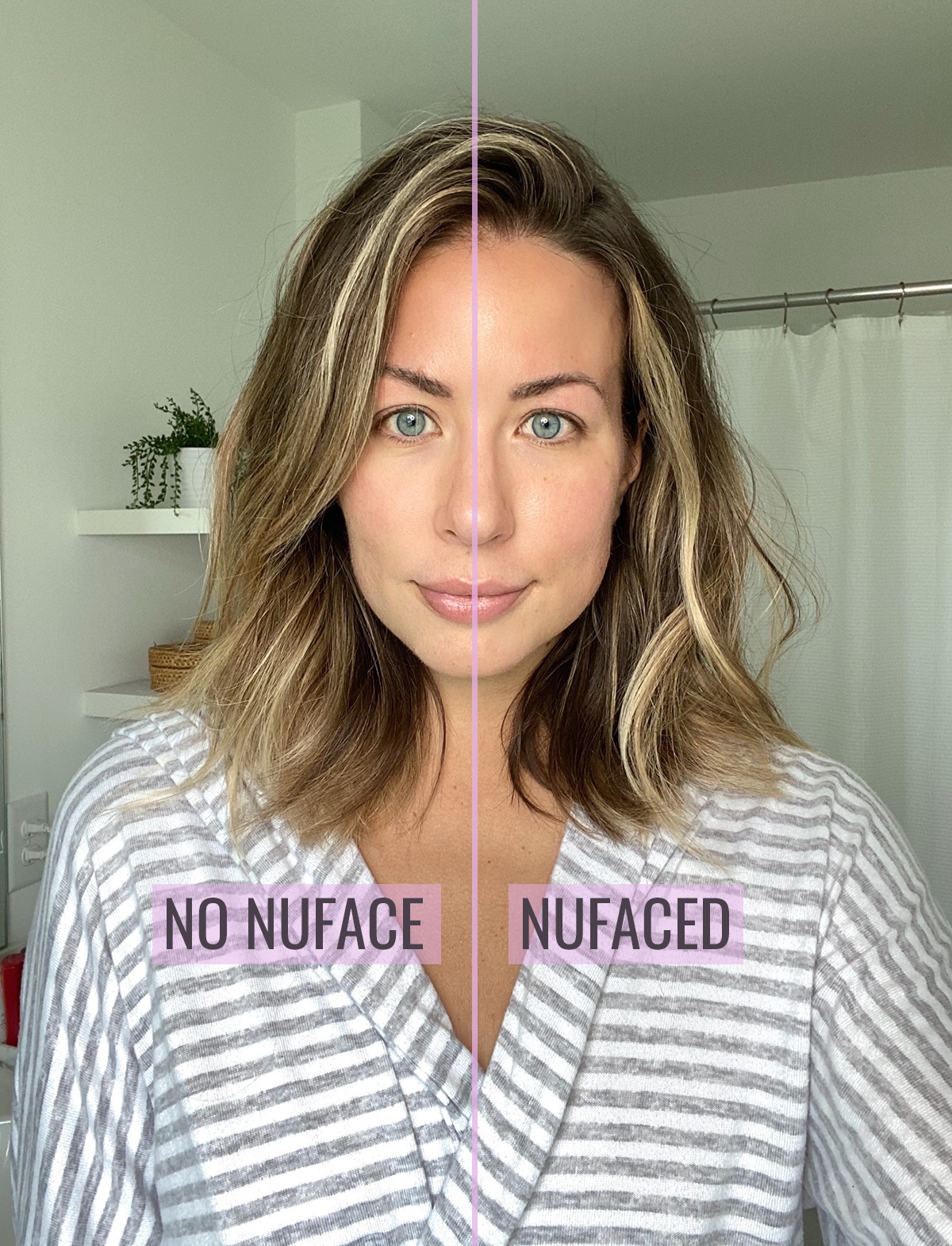 How do you use the NuFACE device?
There are plenty of videos online that show you how to use the NuFACE device, like this one. First, you apply a gel to the skin. Then, you start swiping – starting from the bottom and working your way upwards – neck, jawline, cheeks, forehead, etc. You always move it an upward motion.. again, to lift and tone. You can also adjust the intensity of the current – starting off at a low level and working your way up. Practice makes perfect so the more you use it, the more comfortable you will become swiping it across your face.
How much is the NuFACE device?
There are several types of NuFACE devices, depending on what you want to target and your price point. These 3 tend to be the most popular:
NuFACE Trinity, $429-$479

The Trinity includes 2 attachments: one for face/neck and one for eyes/lips
You can usually find it on sale for $429. I suggest searching for coupon codes. Dermstore offers a 15% discount if you sign up for their newsletter, which is what I did.

NuFACE, $325

The NuFACE includes only the attachment for your face/neck, but you can buy the eye/lip attachment separately

NuFACE Mini, $199

The Mini is a more compact version of the NuFACE and does not support switching of attachments
As I mentioned above, you will need the Gel Primer that is to be used with it, which is included with most device purchases. It's very similar to the gel used during an ultrasound – it acts as a barrier between your skin and the microcurrent. If you do not use a gel, the device will shock you and hot damn, it hurts. They say you can use aloe vera gel instead but my sensitive skin reacted poorly to that. So, I stock up on the large bottles on Amazon.. it is the cheapest I found. I like to use the smaller bottle for traveling , since it's under 4 oz. You can also add water to your face with your fingertips as you move the device and the gel wears off, which thickens the gel, instead of applying more gel.

Is the NuFACE device worth it?
I say YES but that is because I use it. You need to use it to see results! I like it so much that I use it every day. I like how I look more awake when I use it. You can click here to read more about my current beauty routine schedule.
If you don't see yourself using it daily, use it before a photo shoot, a big event or bring it with you when you go on vacation. I also like to use it after I've had too many drinks the night before with friends. I'll use it on my eyes, and they instantly appear wider, more open, and more alive!
I hope this information helps! If you have any questions, send me an e-mail or DM me on Instagram. You can check out the Reels video I made here of me using my NuFACE device.