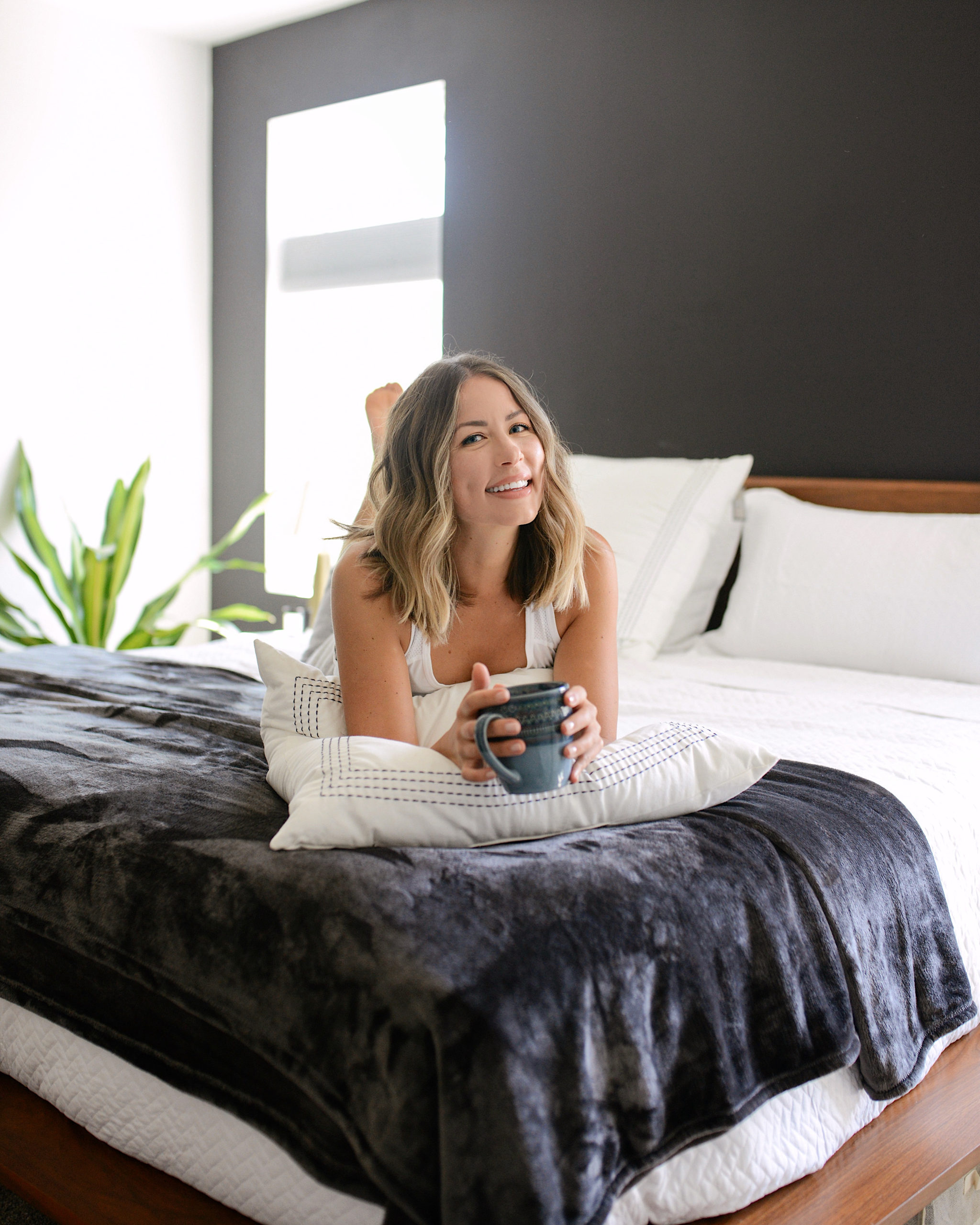 SIMPLE CHANGES THAT TRANSFORMED OUR MID-CENTURY MODERN MASTER BEDROOM
Our house is still a work in progress but we did spend a few weeks in quarantine giving our mid-century modern master bedroom a refresh – finally! We wanted our bedroom to be a retreat and it was time to ditch the plastic bed frame and upgrade to something more adult. Here are a few simple changes that transformed our mid-century modern master bedroom:
WEST ELM PLATFORM BED FRAME
We were lucky enough to find this mid-century platform King bed frame on Facebook Marketplace for 50% off. We were so excited to find this bed at a great price that we jumped the gun, without measuring. Oops! We love the bed and it was pretty easy to put together but it takes up a lot of space. With the platform, it's a wide bed and the headboard sits pretty high so we were not able to hang the piece of art we purchased (specifically for above the bed, ha). We decided to give it a year and swap it out if we find something else we love. But, if you have the space, I can't recommend this frame enough!
NEST ALEXANDER SIGNATURE MATTRESS
We finally upgraded to a King mattress and we are so happy with our Nest Alexander Signature Hybrid Mattress. We wanted a mattress that was eco-friendly (check!), had great reviews (check!), and was more firm than soft. We ended up going with the Luxury Firm feel which was a 7 out of 10 on the firmness scale. We also loved that they offer a 100-night guarantee in case we decided the mattress wasn't for us. I can't stress enough how much changes once you go from a Queen to a King. It's like, Ryan's on another planet which is great for the girl who values her sleep.
ACCENT WALL
Since our entire house is painted white, we figured our modern master bedroom was the perfect place for a black accent wall. We get a lot of natural light but with the shades down and the dark wall, the room stays DARK. We went with Sherwin Williams Black Magic and absolutely love it – it's a dark, warm, bat black.
QUILT BEDDING
This summer we made the switch and started using a quilt instead of a comforter and duvet. It's a game-changer! I find quilts to be much more comfortable – they're lightweight, warm, and structured which makes making the bed a piece of cake. Plus, forget having to put a duvet cover on a comforter! For the warmer months, we used this quilt from JCPenney, which so many of you purchased and loved. For the colder months, we swapped it out for this Flax Linen Quilt from West Elm. I love it so much, I need to buy the matching shams.

I can't wait to share more home updates with you soon! Click here to see how I transformed my office into a modern boho dream.