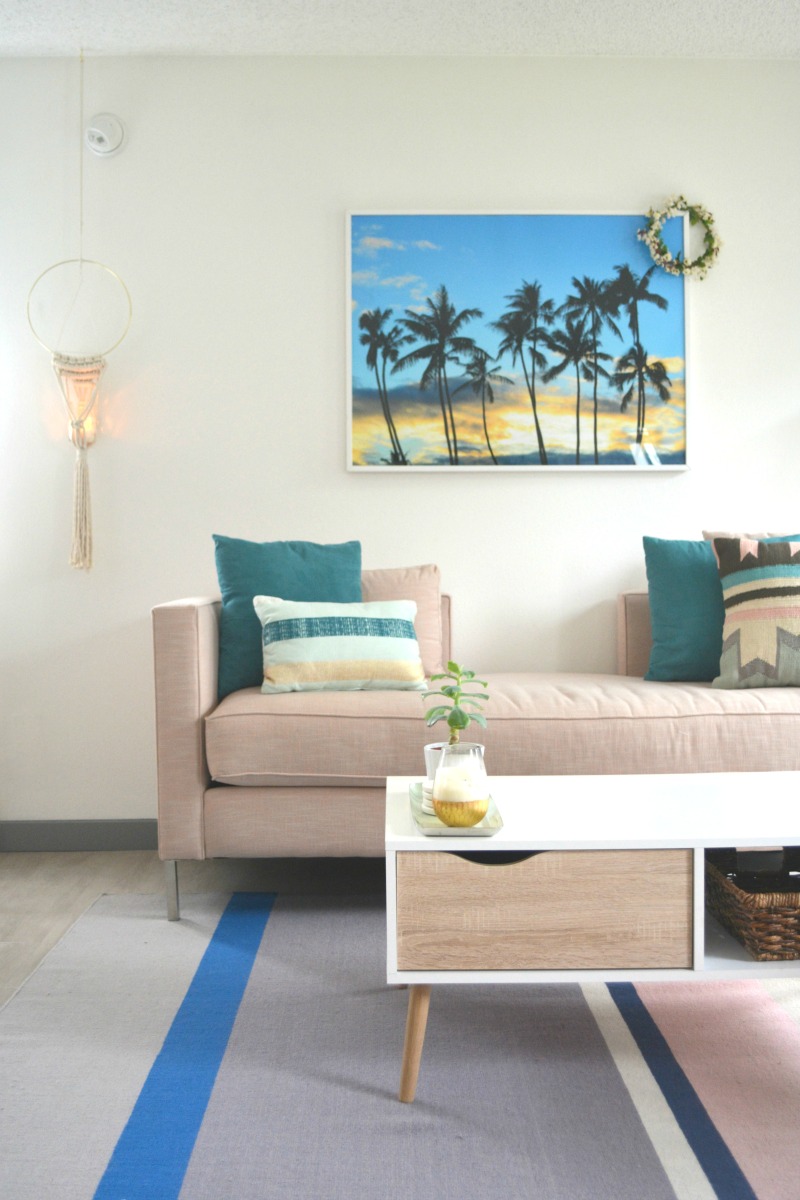 HOME TOUR: MY STUDIO APARTMENT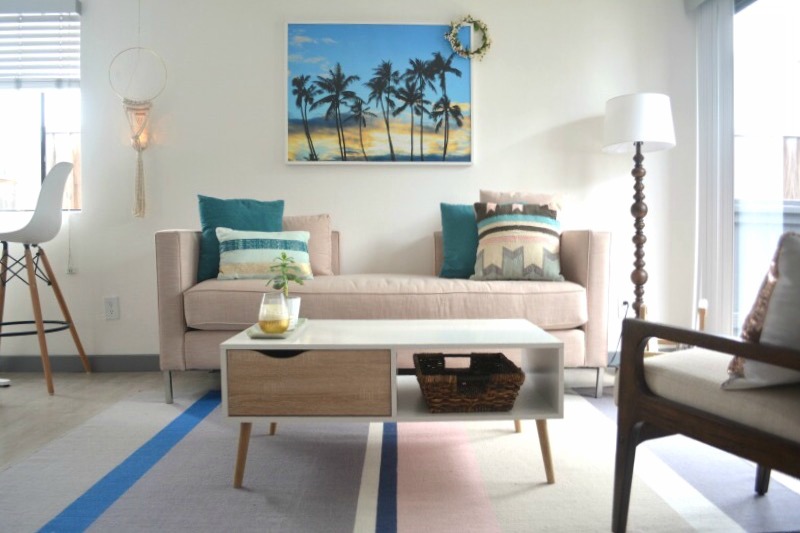 In October, I hit my one year California anniversary. It came & went faster than I ever imagined, but life has happened exactly as it should have. A few months ago, I drove by the cutest apartment complex & thought to myself, "I need to live there!" It was time to break free from the roommate lifestyle (after 10+ years of that #roommate life) & live by myself. It was the only studio I looked at & I knew it had to be mine.. I mean, the front door was lime green (my favorite color!). Designing a studio space is hard, because your living room is your bedroom & your bedroom is in your kitchen. My space is 17 feet x 17 feet which is pretty spacious, & I am lucky that I have a separate room that holds my wardrobe before walking into the bathroom.
When I first moved to California, I teamed up with Havenly, an online interior design service, to design my bedroom (you can see my bedroom design here!) & knew they'd be a helping hand for designing my studio space. My style is bright, colorful, & creative & I wanted my studio to exude that just like my bedroom did at my previous place. Considering I owned nothing but a bed (true life), I knew I would have to invest in additional furniture & reuse my bedding & decorations.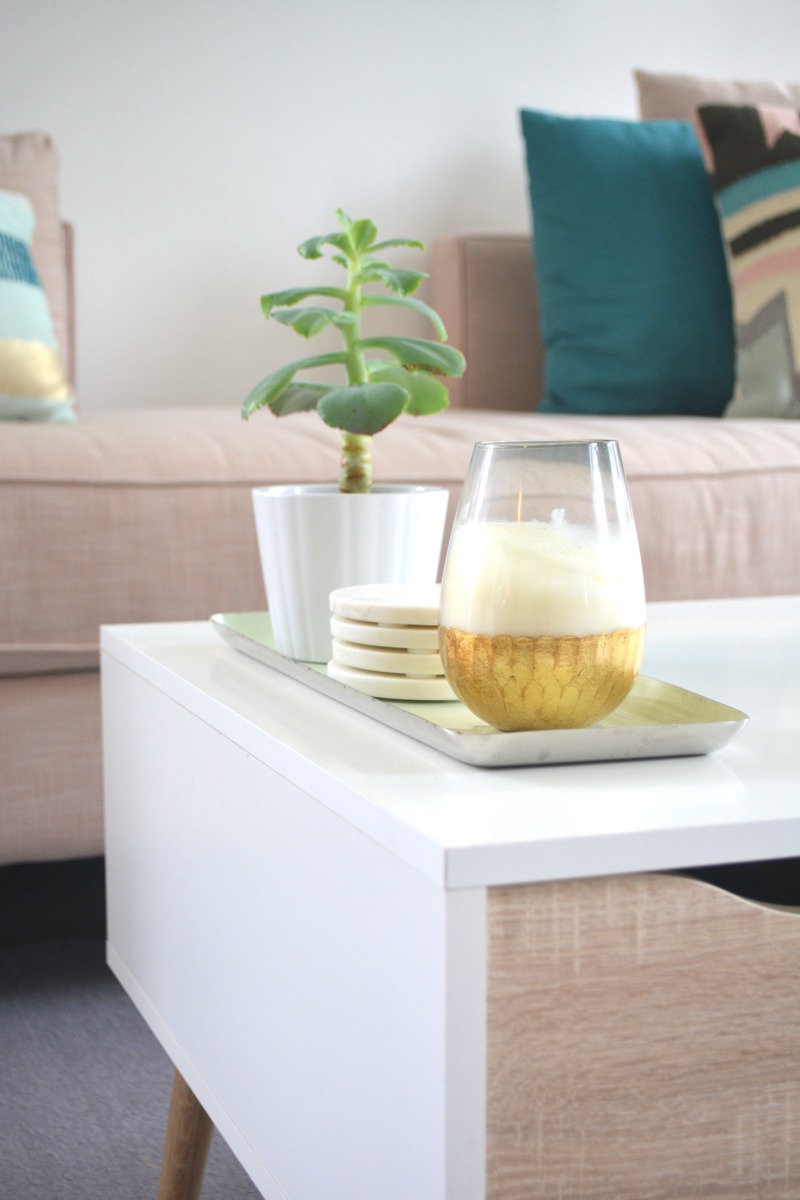 I chose my designer, Sarah, because I vibed with her style the best. After sharing with her my ideas, color palette, & Pinterest boards, she drafted up a few visual designs. We went through several design concepts before I settled on the fun design below that incorporates that California cool lifestyle, while emphasizing key pieces like my cute pink couch (love at first couch, too!). The entire process (from introduction to furniture delivery) took roughly 6 weeks & Sarah was engaged with me the entire time. The great thing about Havenly is that you have a say, too! I was vocal about what I liked & didn't like & she was quick to find alternatives. I didn't buy every item Sarah suggested, but I followed the same look & feel. Obviously, decorating a space costs a lot of money, so I tried to purchase the key pieces & overtime fill the space with decorations (which is why this post is coming to you 3 months after I moved in, ha). By the way, the Rose Bowl Flea Market in LA is a great place to find knick knacks to fill empty space (cough, those Ikea shelves).
If you need help decorating a space, whether it be your bedroom, your kitchen, or even a gallery wall, I highly recommend Havenly. They have been nothing short of amazing (& fun!) to work with. You can play around on their iPhone app, or hop over to their website here to start the design process – use code ALLIEWEARS2017 for $25 off your design! You can shop my furniture & accessories below & a big thank you to Havenly for making me feel right at home.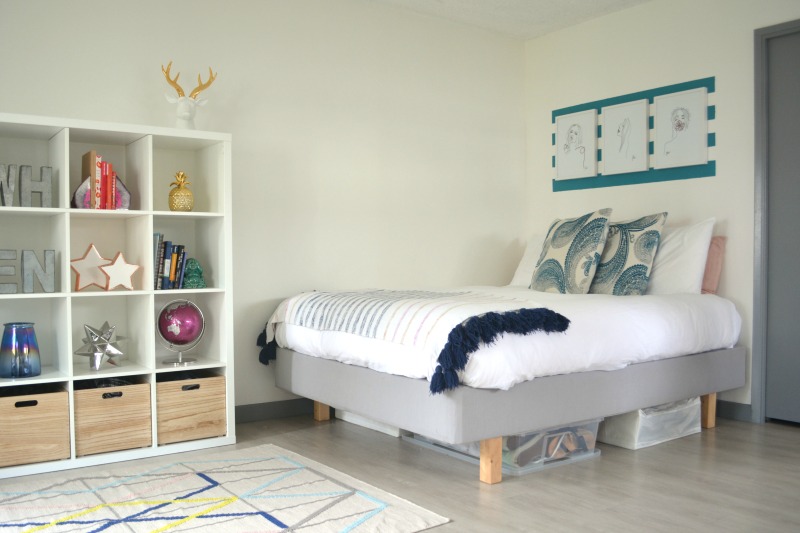 Havenly was nice enough to provide me with this service free of charge, as well as credit to use to purchase items selected by Sarah, which I am extremely thankful for. As always, all of my opinions are my own!