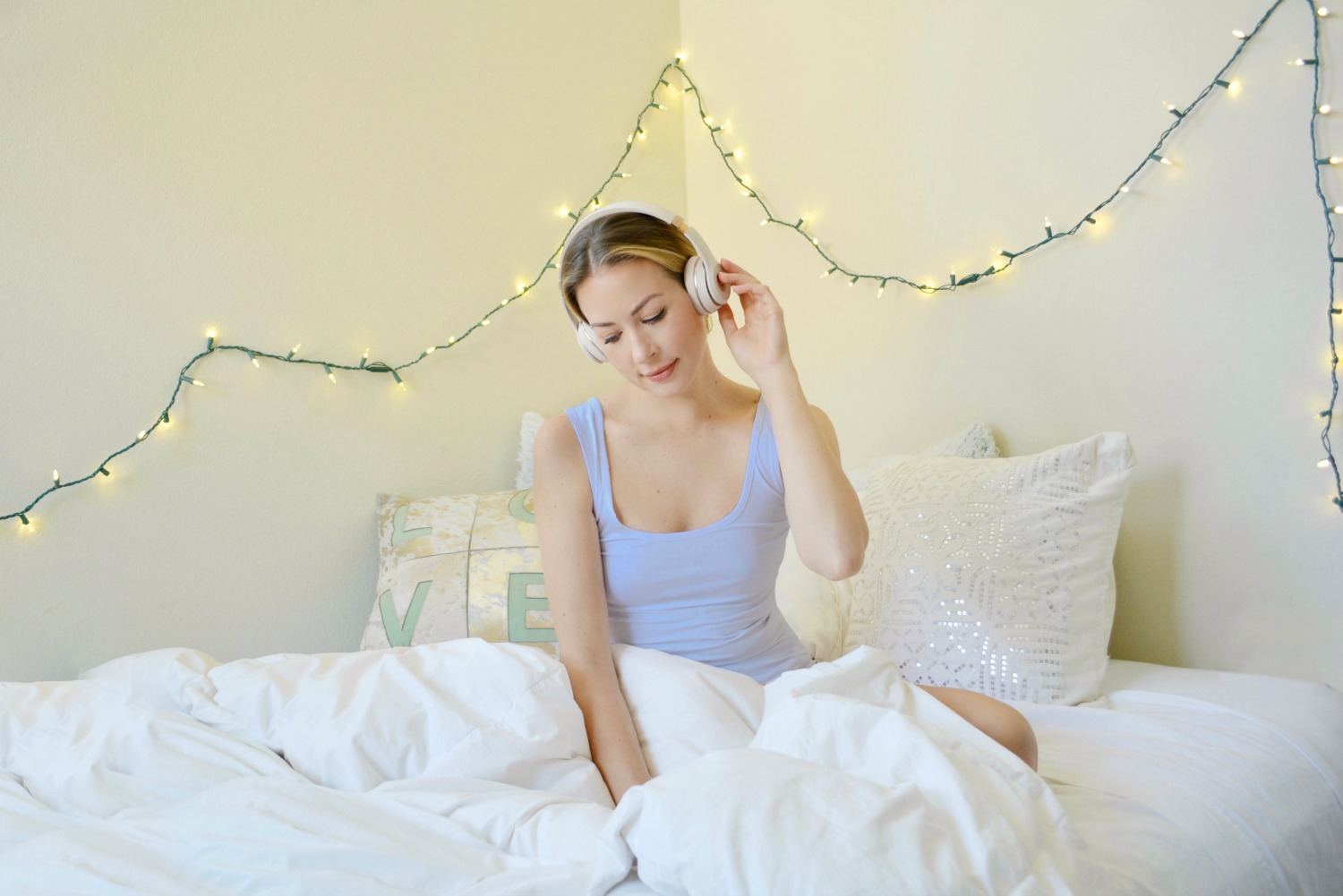 Wearing: $12 Tank | Wireless Matte Gold Headphones
Do you know what I listen to at the gym? A podcast. Do you know what I listen to when I commute to work? A podcast. Do you know where I get most of my information from these days? From a freaking podcast! Damn, I love podcasts so much that I want to start one. My days are cray (working full-time + blogging + freelance writing + having somewhat of a life) that taking an hour to pick up a book & expand my mind is not an option. Podcasts are convenient, informative, & fun! With that said, it's time to share with you the ones I love:
Sex with Emily
Let's talk about sex! Emily makes talking about sex, thinking about sex, & wanting to have sex NBD. She interviews everyone from psychologists to porn stars which keeps things super interesting. I end every episode knowing more than I did before which is a win-win in my book. Whether you're single or committed, you have to start listening. My two favorite episodes: how to optimize your brain's performance with Jim Kwik & how to talk about sex both in your relationship & in the bedroom.
The Skinny Confidential Him & Her Podcast
I'm an avid fan of Lauryn from The Skinny Confidential because she's R-E-A-L. I love the community she has created & that she is all about women supporting women. Her podcast includes inspiring guests that share amazing tips & tricks on how to become your best self. My two favorite episodes: how more fiber can change your diet with Tanya Zuckerbrot & the magic of Ayurveda with Sahara Rose.
My Favorite Murder
I'm addicted to true crime, true story. The Lacey Peterson case still has me perplexed?! It took me a few episodes to catch on to this podcast but now I'm hooked. The two hosts, Karen & Georgia, share their love for true crime by recapping their favorite tales of murder. To be honest, I like to skip their intro & fast forward to the good stuff, usually 15 minutes in. My two favorite episodes: the murders of LA's Hillside Stranglers  & the infamous Cleveland torso killer (ew!).
Oprah's SuperSoul Conversations
I wish I was related to Oprah. She is a book of knowledge that we can all learn something from. Her podcast has taught me the importance of being present in the moment & how it's OK to say NO. She interviews some of the most well-respected thought-leaders and influencers that walk this Earth. My two favorite episodes: a heartfelt interview with Maya Angelou & how to fulfill your destinies with two women we admire, Reese Witherspoon & Mindy Kaling.
I Do Podcast
This podcast revolves around "relationship, sex, dating & marriage advice." The married couple gives great advice on how to maintain a happy & healthy relationship but their guests are so knowledgeable that I leave each episode wanting to be a better person, with or without my significant other. It's like free therapy! My two favorite episodes: only you hold the power to change yourself & how to avoid the 5 most common sex life pitfalls.
The mindbodygreen Podcast
I'm a big fan of the MGB website so I'm not surprised I love this podcast. The host's voice, Jason, can put you to sleep but each episode focuses on bettering your physical, mental, spiritual, & environmental well being.  My two favorite episodes: the key to lifelong happiness with Dan Buettner & the meaning of life with the one & only Deepak Chopra.
The Influencer Podcast
I'm surprised there's not more of these considering influencers are everywhere, but Julie Solomon does a great job covering the most pressing topics for influencers trying to make it in this big, bad, blogging world. She basically says what we're all thinking like, "How do I monetize my blog?" "How do I grow my influence?" "How do I turn my side hustle into a full-time gig?" The basics, ya know?. My two favorite episodes: how to improve your online following & how to cut through the noise & build an influence.
That's all, folks. What are your favorite podcasts? I'd love to add some new ones to my library. & if it's not obvious, it's free to listen to a podcast – you just need access to iTunes or the Podcast app on your iPhone.