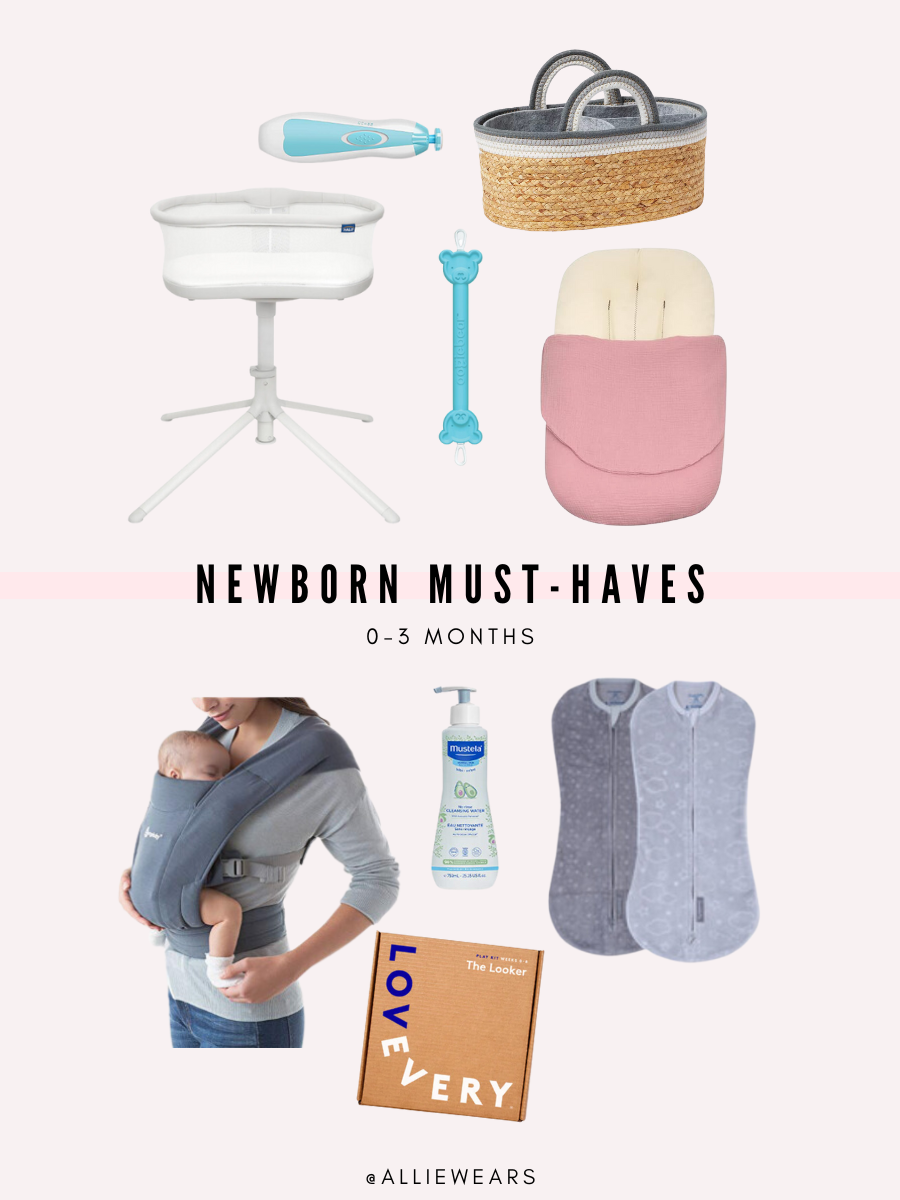 MUST HAVE ITEMS FOR THE NEWBORN PHASE
Every few months I'll be sharing our most used and highly recommended items – starting with the newborn phase, 0-3 months. I've said it once and I'll say it again – you do not need as much as you think you do. A lot of the things I registered for I haven't used – like pacifiers,, muslin cloths, diaper cream – the list goes on!
Here are the items I would recommend and register for and I'll share why for each. Please keep in mind that every baby is different and what my baby likes, your baby may not like, and vis versa.
Forget the Snoo.. this swivel bassinet does it all. This is the more affordable option (the one we have) but this one vibrates and plays soothing sounds, similar to the Snoo. I highly recommend the mesh newborn insert as it kept her contained and is breathable.
Get one! Get two! Damn, get three! I had one on every floor so I could change her without going far. In ours we had diapers, wipes, hand sanitizer, and this portable changing pad.
A simple little gadget that gets every booger and skin flake in site!
The SnuggleMe kept her secure and was a great place to put her when she was not on us. It's also easy to move around the house. We always had these Amazon covers on it to avoid getting it dirty – they wash great and come in a pack of 2.
Their nails grow SO quick so I use this electric nail file every other day. It comes with several tips and a nice storage case.

A must for hands free moments! Not all babies like them but start them in one early and they should get used to it. We loved the ErgoBaby Embrace Carrier (affordable option) and the Artipoppe Zeitgeist Carrier (expensive option).
These newborn compression zipper swaddles are so easy for middle of the night changes and once she outgrew them, we switched to these velcro swaddles. These have a zipper around their legs so you don't need to remove the swaddle to change them.
A great alternative to a bath! We didn't bathe Indie every night so instead, we'd wipe down her face and neck with this miracle cleansing water. It also completely healed her baby acne.
Lovevery toys have exceeded my expectations. The play kits are boxes filled with developmental toys for their age and comes with guides and directions on how to use them and interact with your baby. The Looker Play Kit lasts for the first 3 months and is really all you need for toys to keep your stimulated. I also highly recommend the Play Mat as it grows with the child!

I hope you found this helpful! If you're a soon-to-be Mom, check out a long list of advice for new moms and a detailed blog post on our budget-friendly baby shower.