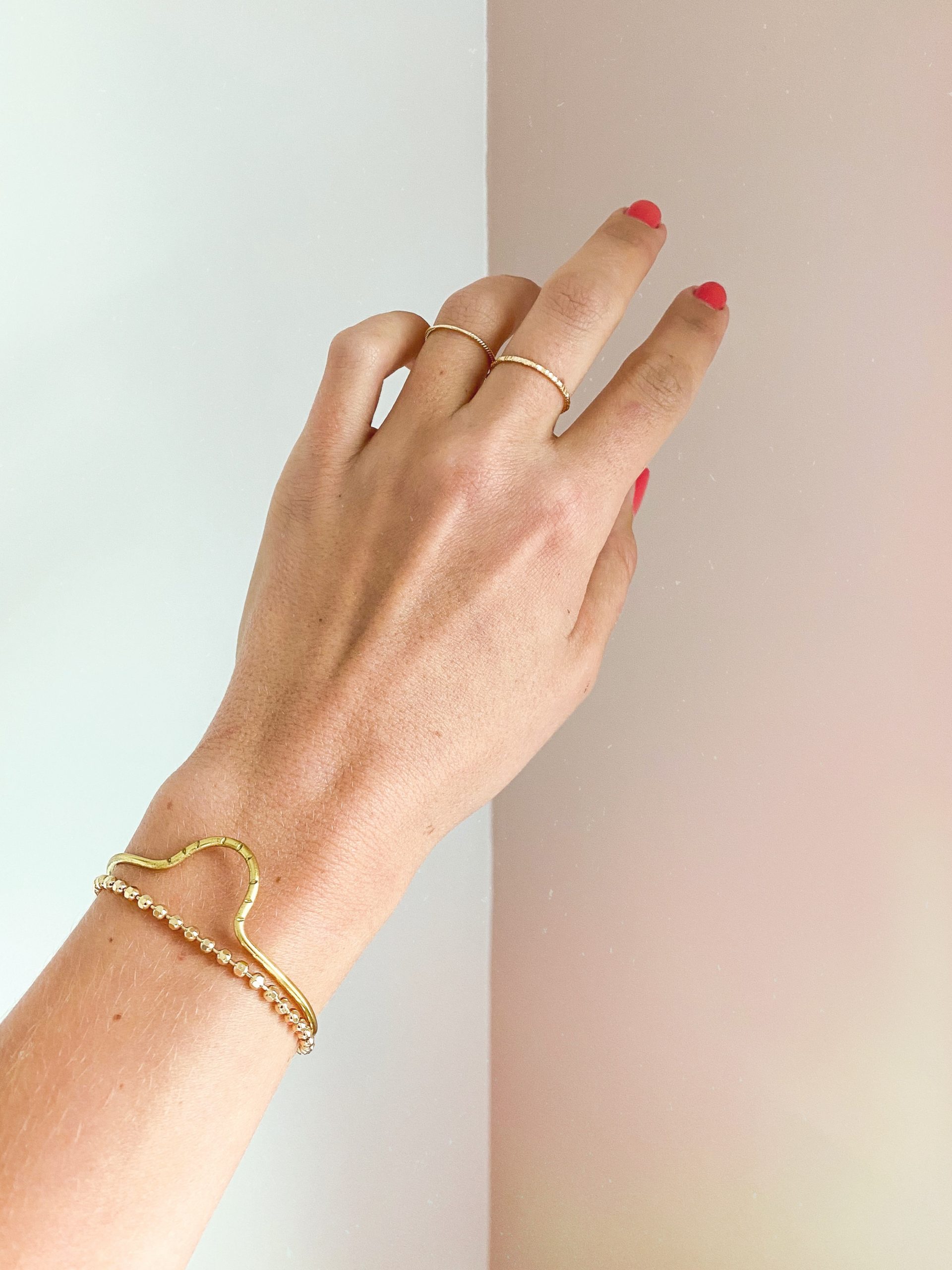 WHERE TO SHOP FOR AFFORDABLE DAINTY JEWELRY
Since I don't like to wear a lot of jewelry, I gravitate towards simple, dainty and AFFORDABLE pieces. I tend to only buy gold jewelry because I think it looks best with my olive skin tone. I try my best to take good care of each piece so it lasts a while. That means I don't sleep in them or shower in them and store them away from the sun so they don't discolor. I suggest you do the same, people!
Below are my favorite jewelry brands that are all affordable! If you know of any that I didn't include, please share – I love adding to my collection.
MEJURI
Mejuri, one of my absolute favorite jewelry lines, has simple, classic pieces that pair well with any outfit. Their Pearl Hoops are one of my most worn pairs of earrings and I am happy to say they look as good as new, even 2 years later. I also love their Twist Ring – it's delicate, yet stunning.
SHOP BOFEMME
Caroline of Shop Bofemme is a local NC jewelry creating the prettiest bohemian-inspired pieces. I have these Staple Earrings, this Ray Necklace Cuff, and this Crystal Lariat Necklace and plan to add these Rainbow Earrings to my collection soon. Her pieces are easy to wear and require no thinking or planning as they go with everything.
LOCAL ECLECTIC
We'll thank Facebook ads for introducing me to Local Eclectic. Ryan was sweet enough to gift me two pairs of their earrings for Valentine's Day. I wear these Solid Gold Diamond Studs in my 3rd hole and never take them off, since they're real good they won't tarnish. I also have these Gold Chunky Huggie Hoops which give off a vintage vibe.
WIND BLOWN JEWERLY
Another local jewelry brand, Wind Blown Jewelry is handmade right here in Wake Forest. Her jewelry is inspired by simple lines and shapes and best of all, they do NOT tarnish (even in water) since they are 14K gold filled. I wear their Strength necklace, Kindness bracelet, and their Faithful Ring almost daily. You can get 20% off your purchase with code: ALLIEWEARSWINDBLOWN
SHOP CUPCAKES AND CASHMERE
Shop Cupcakes and Cashmere, an eCommerce shop started by blogger Emily Schuman, carries a lot of pretty jewelry, including my favorite dainty hoops, The Scarlett (in 9mm), which I wear in my 2nd holes. Emily never takes off her jewelry (not recommended, haha) so I know that any piece I buy from her shop is well made and will last me a while.
MIRANDA FRYE
Miranda Frye is a pretty well-known jewelry brand amongst influencers. I recently treated myself to this London Bracelet and love the texture and length. You can also get 10% with code MFTRIBE.
I hope this makes shopping for jewelry much easier. If you buy anything you love, send me a DM and share the love!