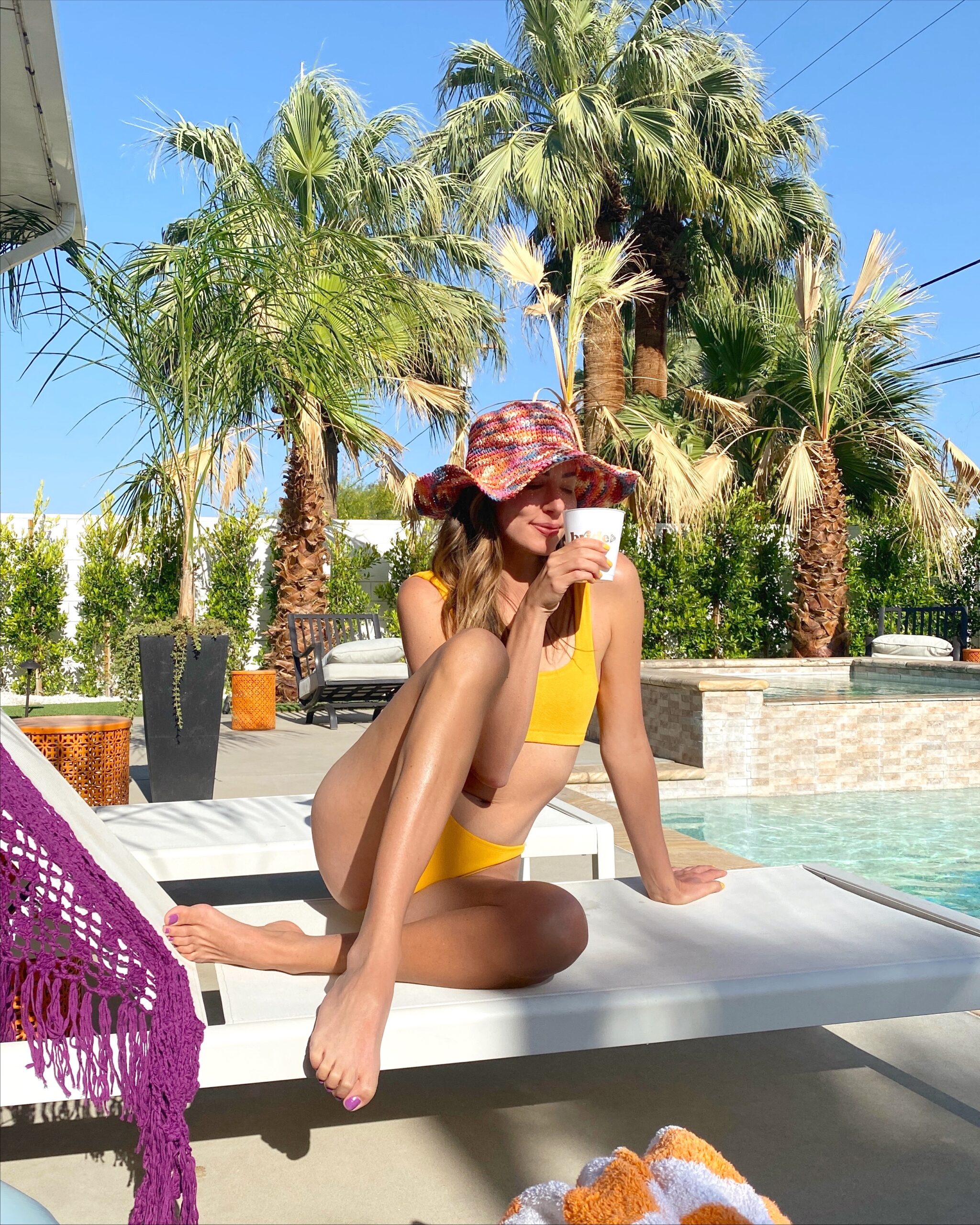 Even though Ryan and I eloped in November, I still wanted to celebrate this huge milestone with the ones I love most. I have been dreaming of having my bachelorette party in Palm Springs for years so, I did it! I invited my closest girlfriends out for an extra-long weekend and we had the time of our lives. Keep reading for a recap, including what I packed, and things I would recommend if you're headed that way. I found a lot of useful information about what to do in Palm Springs in blog posts, especially those dedicated to planning bachelorette parties.
I would say this trip was a little more relaxed than your average bachelorette party since we spent a large majority of the time just lounging by the pool. We really tried to take advantage of the amenities that the house had and ate in just as much as we ate out. The drinks were flowing, the music was blaring, and the girl talk was never-ending. We booked this amazing Airbnb for 4 nights, 5 days. I recommend flying into San Diego and renting a car to make the 2.5-hour drive to Palm Springs!
PALM SPRINGS BACHELORETTE PARTY ITINERARY

Ordered a bunch of groceries and alcohol via Instacart to be delivered on our arrival
Ordered take-out sushi from Oishi Sushi (so good!)
Grabbed breakfast and coffee at Bluebird Coffee
Walked around our *super cool* neighborhood
Did some damage at Lighthouse Marijuana Dispensary
Enjoyed dinner at Tac/quila
Danced to live music at The Village
Partied the night away at Chill Bar
Took the Aerial Tramway up the Chino Canyon (highly recommend)
Had a themed BBQ at the house (Euphoria-themed!)
Devoured donuts from Vienna Donuts
Dressed up for brunch at the Colony Palms Hotel
Shopped 'til we dropped in Downtown Palm Springs
Rooftop drinks at High Bar
Ordered pizza from Pizzeria Bambinos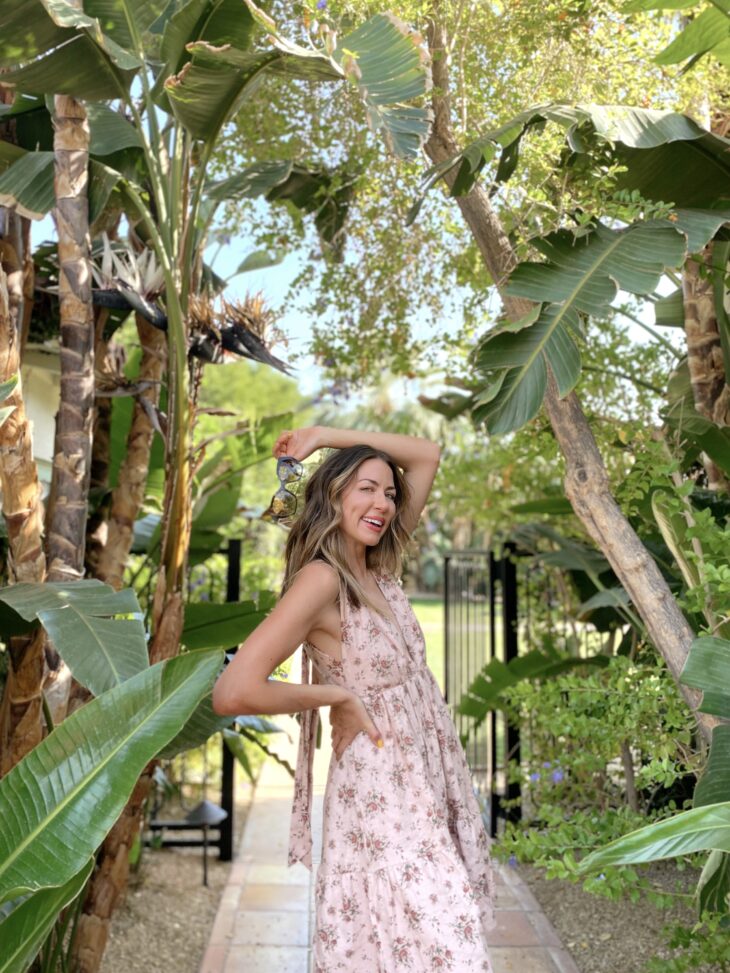 WHAT TO PACK FOR A BACHELORETTE PARTY IN PALM SPRINGS
We all packed a carry-on which was perfect for a week in California. I packed:
A pajama set
3 bathing suits + 2 cover-ups
3 casual outfits (think tank top with shorts/skirt and/or a maxi dress)
2 comfy outfits (including what I wore on the plane)
1 workout outfit
2 dressy going-out outfits
1 pair of sneakers, heels, and flat sandals
1 beach bag and 1 purse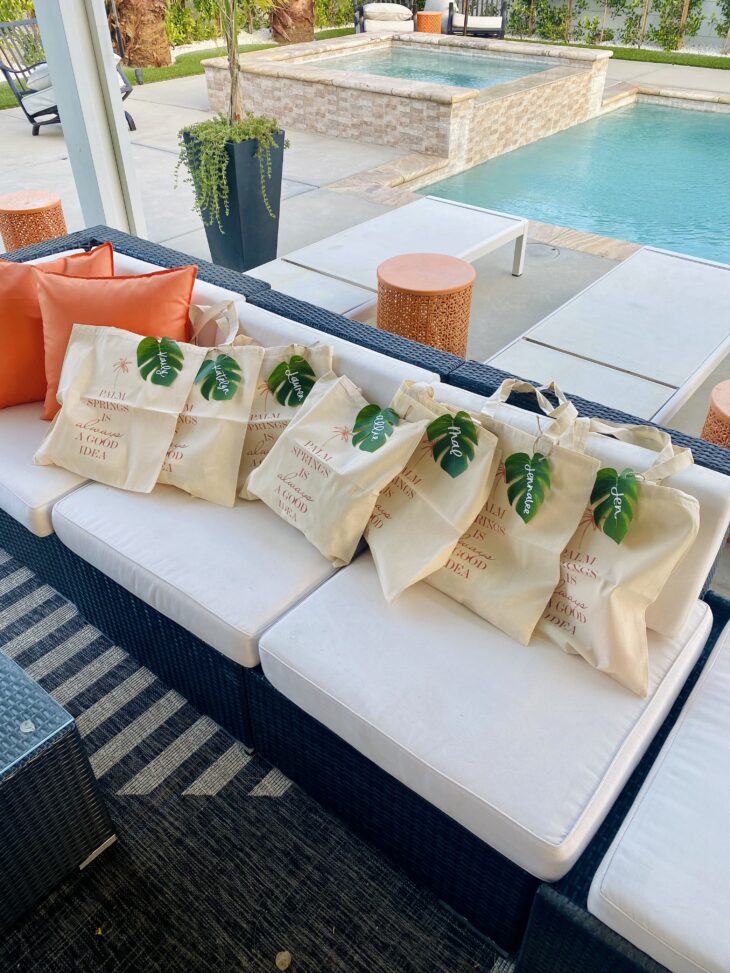 I am so grateful for my girlfriends who made the trip out there and if you haven't been to Palm Springs, please go! There are so many other things I wish I did, like thrift shopping and a mid-century modern home tour. I hope to go back soon but for now, I will relish in the fact that my heart is oh so full. Click here for some more wedding-related posts!