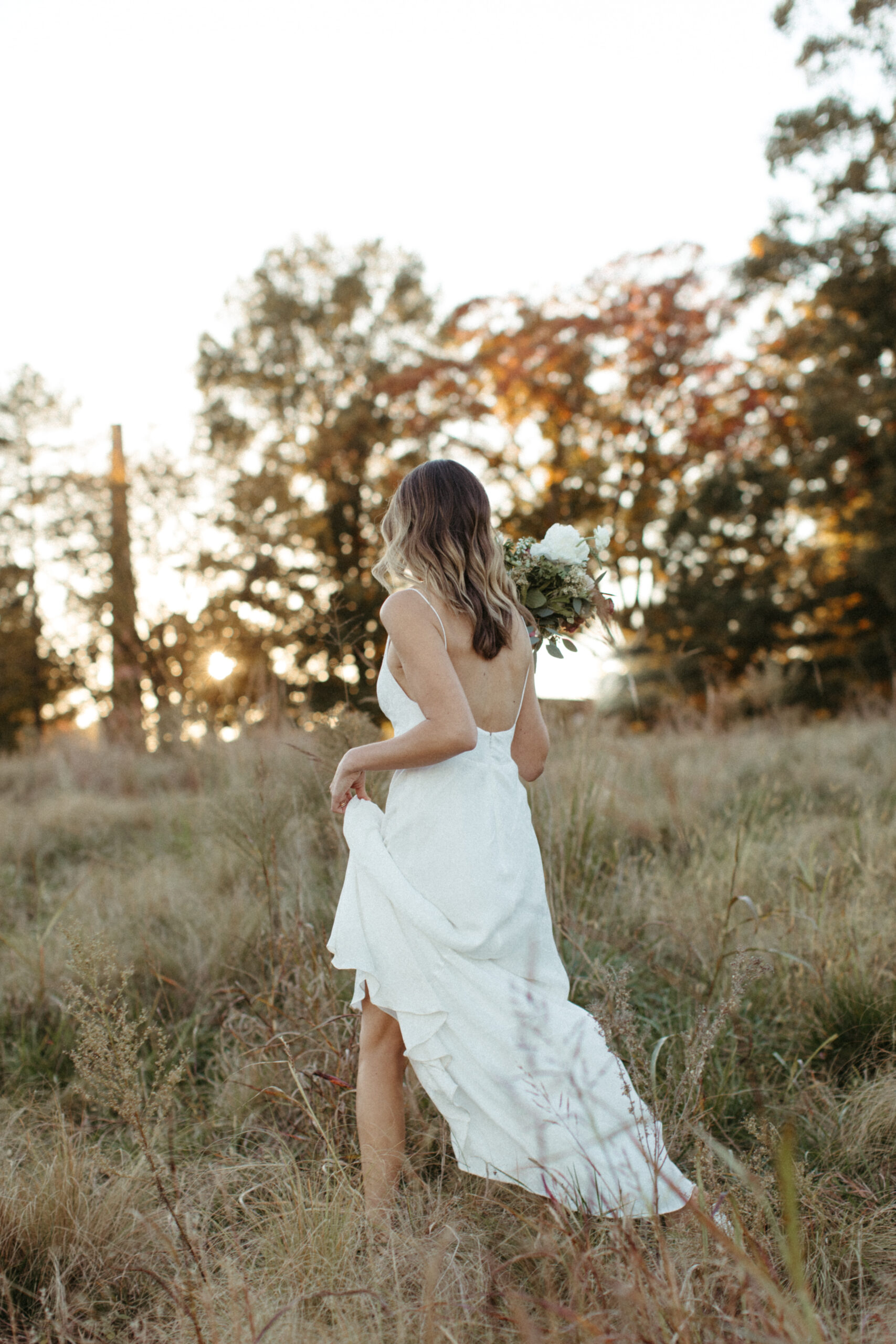 Believe it or not, I could barely find any information on how to have an elopement wedding in North Carolina. I know what you're thinking.. you just run away and get married, don't you!? But, it's not that simple. You need a few things in place in order to pull off an elopement, especially if you're one for details (like me). Besides this step-by-step guide, I am sharing more information on our elopement in this blog post and creative wedding ideas in this blog post.
Secure your date
This point is self-explanatory.
Book your photographer and/or videographer
Thankfully, our photographer was free the day I was interested in which sealed the deal for us. If you plan to travel somewhere remote for your elopement, you will have to ensure your photographer is willing to travel. We decided not to hire a videographer but I know a lot of couples who do elope that like to, that way your family and friends can relive that special day. I did ask my photographer to take video footage with both his phone and mine throughout the day to capture video content.
Apply for a wedding license
If you are eloping in North Carolina, fill out this form online to apply for a wedding license. You'll need some specific information in order to complete the form so take a look before you start.
Make an appointment to pick up your wedding license
Once the application is complete, you will then need to call the Orange County Register of Deeds office to schedule an appointment. At that appointment, you can pick up your wedding license.
Pick up your wedding license
Both you and your partner will need to go to the Orange County Register of Deeds office to pick up your wedding license. You do this no more than 60 days before your wedding. We picked it up a few weeks before to be safe. Note that your wedding license is also only valid in North Carolina. If you plan to elope out of state, you will need to apply and pick up your license at that location. Click here for more information.
Pick a location
If you apply for a marriage license in NC, you can get married anywhere in North Carolina. I suggest you pick your location first before hiring an officiant and/or securing witnesses. We made it easy and eloped right here in our hometown of Raleigh. We played with the idea of having a destination elopement but with such short notice, we decided to make it easy and stick around.
Initially, we considered eloping at the courthouse. To do so, you will need to make an appointment at the courthouse in order to get married there. A judge officiates the ceremony, the vows are generic, and the entire process is pretty quick. Ryan didn't like the look of the courthouse so we decided to elope outside. I had a few public venues in mind including the Raleigh Rose Garden, Dorothea Dix and NCMA. Eventually, we decided on NCMA because a) we love it there and b) you can't beat the views. We emailed NCMA asking for permission to elope and take pictures there and our wish was granted.
Hire an officiant
We Googled "officiants in Raleigh" and Heidi Gessners's information appeared! She had great reviews and charged $400 for an elopement package, which included a 10-15 minute ceremony and handling the marriage license afterward. If you'd like someone near and dear to officiate your wedding, they will need to become an ordained minister in order to legally marry you.
Secure two witnesses
Since we invited our parents to our elopement, we easily had two witnesses. If it's just you and your partner, your photographer and videographer can count as your witnesses. Say you are short one witness, you can simply ask a stranger who is in the vicinity of your ceremony. And if that's not doable (say, you're hiking up to the top of a mountain for your elopement), you can get officially married at the courthouse and then exchange vows during your elopement ceremony.
Order your wedding bands
This is an important step that should be done ASAP. We waited until 3 weeks before and my wedding band wasn't ready in time so I got married with my beloved grandmother's band. Just a friendly reminder to start the process of securing your wedding bands ASAP.
Hire your vendors
Last but not least, the fun part! Time to start hiring and securing your vendors. This totally depends on your vibe and what your elopement includes. For us, that included a few flower arrangements, a cake, and finding my wedding dress and his suit.
I hope you found this helpful and if you decide to elope, please send me a message and share the good news!
Photography by Brett and Jessica Photography